Incorporated in 1988, the Up with People International Alumni Association, an independent 501(c)(3) nonprofit organization, hosts an annual reunion and other global alumni gatherings through various local & national clubs and associations as well as broadening what we offer alumni based on the survey data received by the Future Committee, proposed and approved by the board. Our vision is to inspire our global community to be committed difference-makers. All individuals who were accepted into the Up with People program and who completed staging/orientation, who have traveled as a cast member or served as a staff member of Up with People or WorldSmart, who were in any national traveling cast of Sing Out, or who were on the staff of PACE magazine are members of the association.
Current Board of Governors
We are currently seeking to add a few more members to our board (the new structure is described below). If you might wish to join the board or a committee, please visit our Interest Form and let us know!
For information on why launching the new structure was delayed, please read our FAQ article.
UWPIAA Fact Sheet
The Board of Governors of the IAA debuted a new tool for alumni to learn more about the IAA; a factsheet featuring financial and other relevant information from the previous fiscal year, designed to encourage alumni to "act" and get engaged in the association as well. This document will continue to be updated with new financial information.
Vision:
Inspire our global community to be committed difference-makers.
Mission:
Provide meaningful programs and interactions to our alumni community, engaging, connecting, and inspiring a lifelong journey of celebration, exploration, and learning.
A New Board of Governors, a New Structure:
We will focus on these goals over the next three to five years to make sure we can deliver and sustain quality programs with the hope and intent to expand and adapt them in future years to meet the changing needs of our alumni body. Achieving these goals will require a new board structure unlike any we have ever had before and will provide many more opportunities for alumni to get involved.
The new board, which took office in September 2021, will ultimately consist of 11 new committees and committee chairs will be the voting board members. There will still be a President, Vice President, Secretary and Treasurer on the board, and in some years also a President Elect. Also, the reunion committee will carry over through the 2023 reunion when other committees take over the logistics of the annual Alumni Week. For information on why this process was delayed, please read our FAQ article.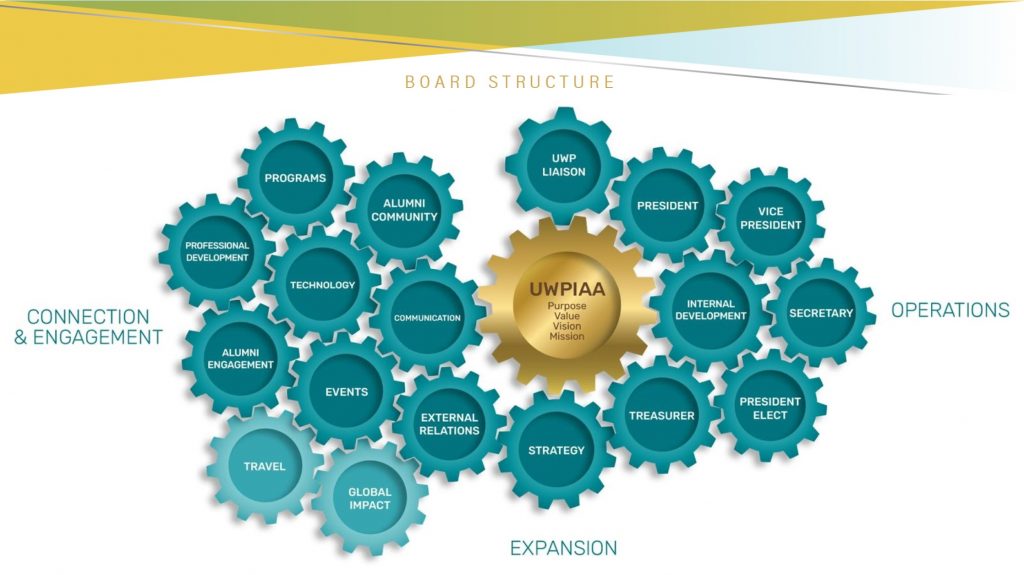 New Committees:
Alumni Community (Era and Regional Reps)
Alumni Engagement
Communications
Events
External Relations
Global Impact
Internal Development
Professional Development
Programs
Strategy
Technology
Travel

How can I get involved?
Each of the new Board Chairs will begin to build out their committees as soon as possible. There will be small and large tasks available for each committee, so alumni volunteers with varying interests and amounts of time are needed.
If you would like to know more about the new committee structure, and might wish to join a committee, please visit our Interest Form and let us know!