Chillin' at the Cactus Lounge
July 18, 2022
If one were to try to describe Donna Seemann Reed ('76A), host of the Cactus Lounge, "cheerful", "passionate" and "fun" come quickly to mind. She is a connector, a person who reaches out to try to find commonalities in people and experiences and then share them with a wider audience.
"This (hosting the Cactus Lounge) for me is my dream–I've always fancied myself as a talk show host, so when Zoom gave me that forum, I thought, 'I'll create my own show!' "
Beginning in 2021, Donna was thinking about the lack of connection that was occurring due to the pandemic. There were no gatherings, no UWPIAA reunions, no human touch–people were becoming more afraid of each other. She felt that adding a bit more positivity into the world was a task she was willing and able to do. Through these interviews, Donna believes she has been collecting "Random little pieces of life that we don't know that may or may not form another connection." For instance, Donna speaks French and was pleasantly surprised when, at the end of the interview, Paul Colwell began speaking to her in Italian. She says "I hope the interviews are giving us a piece of their life (formerly) unknown."
Launching this project connected Donna to two individuals she had met and with whom she had worked on the UWPIAA Board of Governors–Sheila Dettloff (84D) and Mona Bowe (87E+). It was Sheila who named the show and both who suggested possible interviewees, offering encouragement and support. Donna's first interview was with Mona who has experienced significant life changes, traveling with over 10 casts, moving from Mexico to the Midwest, etc. In all, Donna has recorded nearly twenty interviews with alumni ranging from those who traveled in the sixties to those who were members of the most recent casts.
The experience is "like you are entering a host family and having a conversation" however the platform is Zoom, a communication tool that may have begun in 2011 yet is most widely known since the pandemic began. Donna prefers to release the interviews un-edited, not only because she has yet to learn how to edit on Zoom but also because she wants the interviews to be in a more "natural" state. She focuses her conversations on some basic questions that she asks all of the guests such as "What experience did you have that really impacted your life/that you will never forget?" "When did you travel?" "What are you doing now?" "What were your costumes/food/bus travel like when you were in UWP?" And "What really matters and how did the music impact you–what UWP tunes are still playing in your head?" She is intentionally using the free version with a 40-minute time limit "so I can't go over time" with all of these "fascinating people".
With each interviewee you can see the laughter generated by looking at the preview images of the interview–Donna and her guest are often laughing. Her goal is to "make the stories upbeat and positive." Her hope is that "people my age will watch all the interviews, including young people they don't know (rather than) watch(ing) because we know (someone) and vice versa! The 'kids' may learn something from those who set the stage for the program they experienced. Her passion for people is evident as her face lights up while speaking about the people she is hosting. She notes "people are doing amazing things–amazing maybe just in their town, maybe not globally. It is fascinating to see what matter to other people–what has affected who and how."
Donna is also committed to her community. She shared a memory of something she learned as a teen.  "When I was a Donny Osmond fan, I heard that the Osmond family had a tradition-they gave presents to their siblings on their birthdays rather than receive gifts themselves.
For my birthday this year, for two weeks prior I donated to one nonprofit a day." She firmly believes that "if each person can give a small amount, then someday I hope these interviews are a piece of my legacy."
Catch the Cactus Cafe on Donna's YouTube Channel
Interviewees include: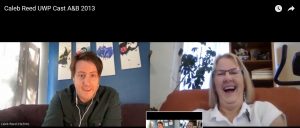 Carolyn Lee '71
Caleb Reed '13 A & B
Zan Bernhardt. '67A
Mia Moravia '78E
Kerri-Ann Appleton '99C
Paul Colwell ('65A & beyond)
Steve Colwell ('65A & beyond)
Ron Beckett ('71 & '72)
Krissna Morena ('12)
Wayne Duvall ('78A)
Sisters Karin Nyquist ('84 D) & Eva Persson ('90A)
Mona Bowe ('87E)
…and MORE!