In 2018, Jim Hardwick (81C) and Jody Goodman Hardwick (81C) traveled to Kenya to experience Basecamp Explorer in Masai Mara after bidding on the safari at the 2017 Up With People Gala.  To say the trip was life‑changing would be an understatement.  The resulting connection to the Masai people led to a partnership with Basecamp Explorer, focused on bringing dental teams to the region.
UpBeat contributor Craig Mills (BOG '81-'90 Era Representative) spoke with Jim and Jody about their vision and the inspiration behind it.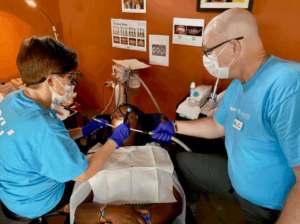 CRAIG:  Before we discuss your work with the Masai people, let's talk briefly about your Up with People experience.  How does it continue to influence your life today?
JODY:  Well … we met and fell in love during our travels with Up with People.  Having friends all over the world shows us how small the world actually is.  The compassion to understand others and see the world through their eyes comes from our time on the road.   We have continued to explore new countries and people and continue to grow with each experience.
CRAIG:  For those who may not be familiar, tell us a bit more about Basecamp Explorer.
JIM:  Hans Magnus (65A) and John Parker (65A) currently run the Basecamp Foundation and are instrumental in keeping the vision of Basecamp going.  Basecamp Explorer creates jobs for the Masai along with keeping the migration channels open for the animals in the 15 conservancies surrounding the National Game Reserve in Kenya.  By doing this, wildlife tourism will continue to provide the conduit for employment for the Masai.
Some of the Up with People alumni who currently serve on the Basecamp Foundation Board of Directors include Steve Woods (65A), Pam Frohriech (67C), Jennifer Thompson (73B) and Phil Woods (08B).  Alumni can discover more about the organization and the Masai experience on their website at www.basecampfoundationusa.org.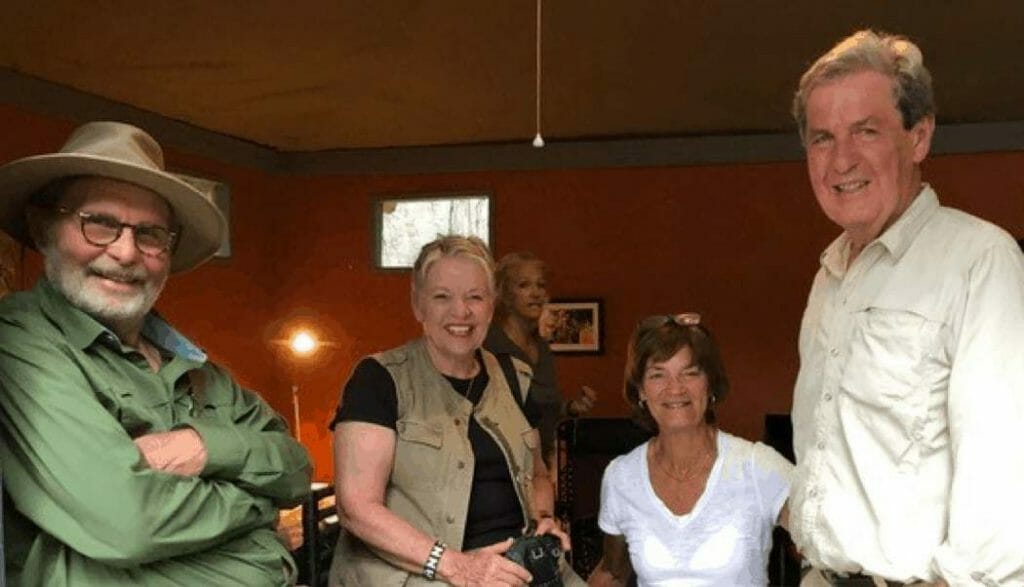 CRAIG:  Now tell us about the moment that inspired you to bring this first dental team to the Masai?
JIM:  We visited a school and medical clinic while on safari with the Basecamp Foundation in October 2018.  I asked one of our guides if a dental team had ever come to their community.  His response … "No, and I have a cavity right here," pointing to the tooth.  I thought, "How great would it be to bring a dental team to Kenya."  When you are caught up in the emotion of the moment, it's easy to think this way.  Most people go home and then look back 5 years later and nothing happened.  I was determined that wasn't going to happen in this case.  I asked Jody, an experienced dental hygienist, to come along beside me to make this idea a reality and 9 months later, with her current dental practice team, it happened.
CRAIG:  Tell us a bit more about the specific need you saw for the Masai people.
JODY:  We were told by the Basecamp employees that dental care is too far away, and the cost is prohibitive for most … roughly $40-$60 USD for a filling or an extraction and $15 USD per tooth for a cleaning.  As a result, the Masai often resort to archaic 'self-treatment' without anesthetics.  It was our team's obligation and joy to figure out how to provide treatment for what we considered to be one of the most primary of human needs.
CRAIG:  And this critical need you saw culminated in your first mission to Kenya this past October.  Tell us a bit more about your team's day-to-day work.
JIM:  It was so gratifying to see our planning efforts over a 9-month period come to fruition.  We assembled a dental team comprised of two dentists, two hygienists, and two assistants, along with two support staff, from the Phoenix, Arizona USA metro area.  We traveled together as a team to Kenya, along with 25 bags of dental equipment and supplies for our mobile clinic.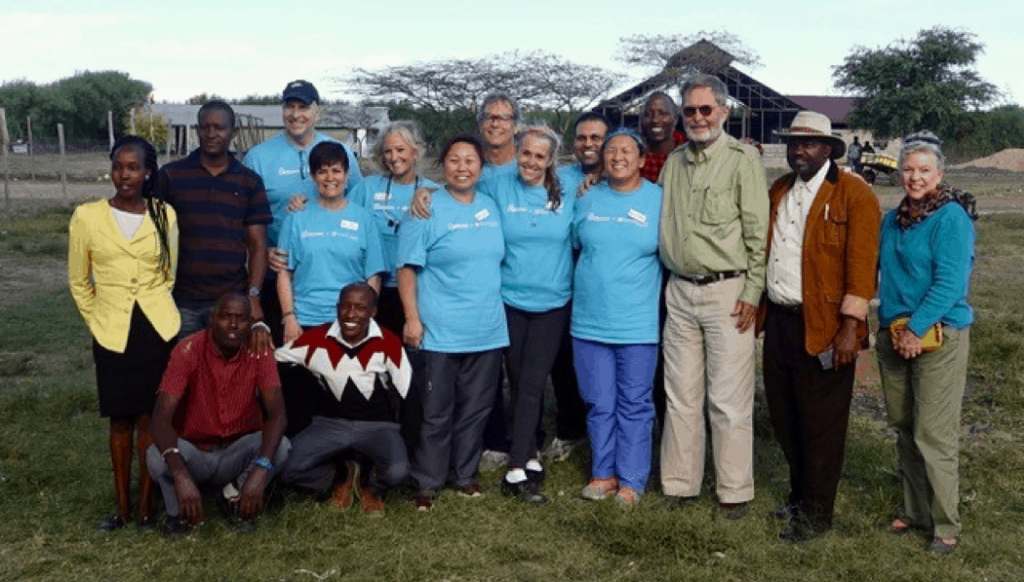 With input from our Basecamp partners, we organized 4 days of dental treatment (2 days each) at two locations … (1) Basecamp Masai Mara, caring for employees and family members and (2) Talek Medical Clinic, providing care for members of the Masai community.
JODY:   During the 4 days, we saw 191 patients and performed 258 procedures including extractions, fillings and cleanings … or as the Masai call it, "washing the teeth." The clinicians also had to adapt their way of thinking in treating patients.  What may be typical in the U.S. would not necessarily be the best treatment choice at Basecamp or Talek.  Our top priority was to get people out of pain.  We became more and more refined in our focus each day.
CRAIG:  Amazing.  Do you have any personal testimonials from your recent trip to share?
JODY:  Yes, and a wonderful example is Fiona.  She works at the Leopard Hill lodge and would not smile due to decay on her canine that had turned black.  She had lost confidence and feared others would notice her tooth.  We were able to fix her tooth and it now looks just like the rest!  We saw her two days later and she said, "I still cannot believe it!  This is a miracle for me."  Fiona was smiling from ear to ear.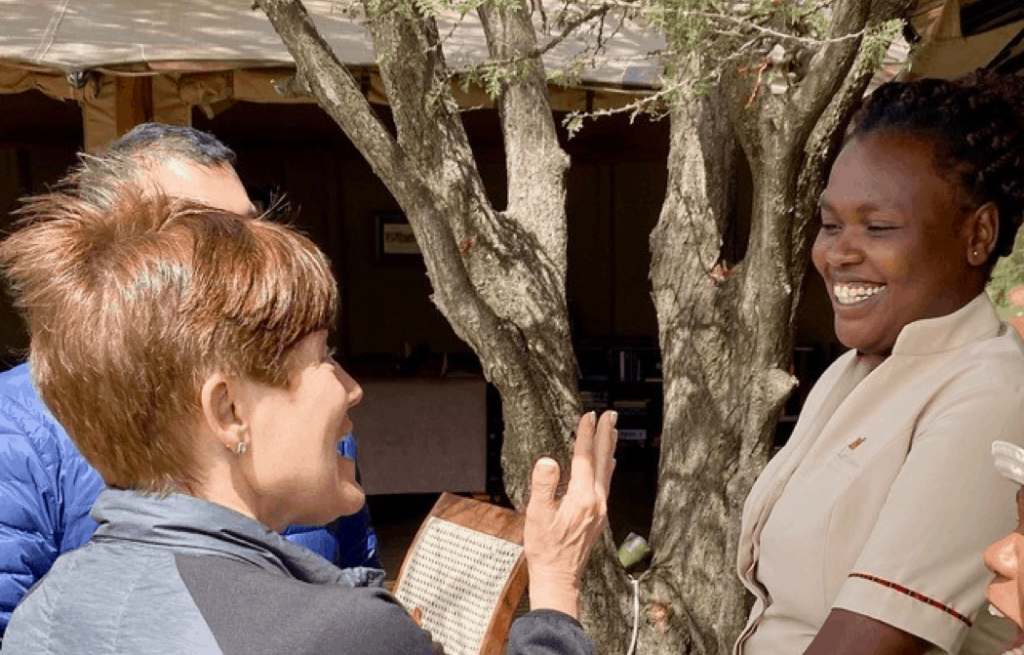 Another example is William … he also works at Leopard Hill.  His tooth hurt so much that he was calling in sick to work.  We extracted the infected tooth and when we saw William two days later, he was all smiles and felt great.  He no longer must call in sick due to a toothache.
JIM: We also observed a young man who rode his bike for 1.5 hours to seek help.  Another lady saw the flyer posted the week prior and drove all day for dental treatment.  We were amazed by how many children showed up without parents, extremely brave and strong without a loved one's support.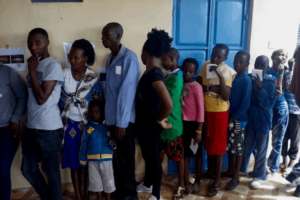 CRAIG:  It sounds like the experience was a resounding success.  Do you have another trip planned?
JIM:  Yes, we have been invited back and are in the early planning stages for our sophomore trip to the region which will likely occur in early 2021.
CRAIG:  Can alumni participate / get involved?
JODY:  Yes, we would welcome hearing from any alumni who are dental professionals and are interested in participating as a team member and/or supporting the foundation in other ways, including supplies and donations.
CRAIG:  Finally, where can alumni contact you for more information or to donate?
JODY:  Alumni can contact/follow us on Facebook and Instagram
JIM:  They can also correspond with us directly via email: hardwickdentalteams@gmail.com