Join Us for Critical Conversations
September 20, 2020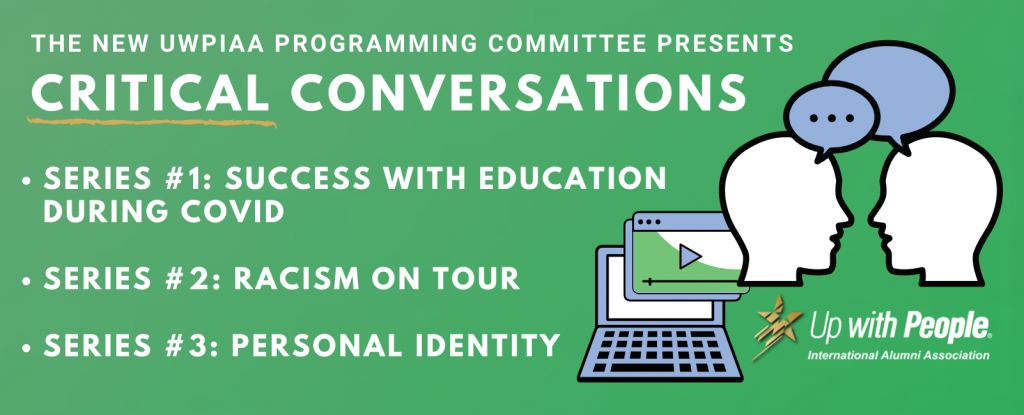 The new UWPIAA Programming Committee is announcing our first program titled Critical Conversations. There will be multiple series of panel discussions, each with three episodes looking at different elements of various topics.
Each episode will feature a pre-selected alumni panel along with program host, T. J. Mannix ('91B), and be professionally moderated by a non-alumnus/a. All will take place on Saturdays and begin at 12 p.m. EDT / 6 p.m. GMT+2 / 1 a.m. GMT+9 (Sunday). These events will be live via Zoom and also watchable afterwards on our YouTube account.
All alumni are invited to tune in, join the Q&A, or even participate on a future panel in these Critical Conversations. Additionally, we are seeking alumni specifically with personal experience in the upcoming series topics to serve as panelists. 
---
The first series, Success with Education During COVID, will feature the below episodes moderated by Michelle Brodie. Register for this series HERE.
We're seeking all perspectives from Pre-School to College. We are particularly interested in alumni of Cast K, Cast T, and Camp UWP to participate in Episode 3! Please reach out to Programs Chair Donalda McCarthy ('91B) if you are interested in being a panelist: iaa_programs@uwpiaa.org.
COMING UP NEXT…
Racism On Tour
October 24, 2020 — Episode #1: Male POC Castmembers' perspective of how their tour differed a bit
October 31, 2020 — Episode #2: Tour Manager and PR Reps experiences when setting up cities in Europe that were contending with immigrant issues
November 7, 2020 — Episode #3: Long-time Allies' perspective
Identity
November 28, 2020 — Episode #1: Gender and the new language we are acquiring. LGBT Community perspectives
December 5, 2020 — Episode #2: Multiracial Kids- We offer the space for the CHILDREN of Alum to share how they move throughout their daily lives
December 12, 2020 — Episode #3: Adopted Outside of Culture or Race- This space will offer Alum who are adopted but don't share the same race or original culture as their parents
---
GET TO KNOW MICHELLE AND T.J.
Michelle Brodie, born in Reno, Nevada and grew up in Adelaide, Australia, began her event career with FOX Studios and Nintendo Australia in Sydney during the 2000 Olympics as a project Event Manager.  This experience would go on to set her up for a lifetime of event management success. After a short stint in hotels and weddings, this self-published author shared her tips to plan a perfect wedding worldwide with brides in the US, UK, New Zealand, Germany, Hong Kong & Australia. Loving her global citizen lifestyle with her pilot husband, Michelle now works with a global team producing live & virtual events with attendees from across the globe.
T.J. Mannix traveled in Cast 91B, and on road staff in 92B, 93C, and 94D He teaches acting, on-camera auditioning, and improvisation in NYC at Circle in the Square on Broadway, the Professional Conservatory of Musical Theatre, NY Film Academy, and the Montclair Film Festival. T.J. Is a graduate of the University of Miami. He has appeared in more than 85 TV commercials and voiceovers – along with roles on Law and Order: SVU, Law and Order, Law and Order: Criminal Intent, All My Children, One Life to Live, As the World Turns.