The Dream of 'A Common Beat'
June 7, 2018
Think of Japan and some of the images that immediately spring to mind are the Sensoji Temple, the Imperial Palace and Tokyo's iconic Shibuya district. But during a recent visit to the Land of the Rising Sun, Ken Ashby and I discovered something deep in the hearts of over 5,000 alumni there — A Common Beat! If this phrase has a slightly familiar ring — particularly to those of you who may have attended the Up with People alumni reunion Celebrate 50! in Orlando — A Common Beat Japan put on a high voltage performance from their production.
The roots of A Common Beat go back to the year 2000 when the show was first launched. A Common Beat was a deliberate departure from the standard approach to UWP shows of recent memory — it was designed in the style of a musical, thematically stating that all people — regardless of their differences — are connected to a common beat of humanity.
Sadly, as this was the year UWP suspended operations, the production remained in it's infancy and was never further developed — that is, until an industrious, imaginative and energetic young Korean student from the cast recognized a way to use the production as a teaching tool to help Japanese students learn English and cross cultural communication skills through performance art. Let me introduce you to Chuson Han — founder of the non-profit COMMON BEAT in Japan!
Chuson (cast D99) was a dance captain of the first cast of A Common Beat. Upon completing her tour she returned to Japan and carried on with life outside of UWP. Meanwhile, her close friend Rika had been planning her own travels with UWP, her friends had thrown her a huge bon voyage party and she was all set to go when the news of UWP shutting down reached her. In need of a new plan, Rika shifted gears and opted for a 100 day voyage with Peace Boat. Peace Boat is a Japan-based, international, non-governmental and non-profit organization which charters a cruise ship that travels the world on peace voyages.
While on board the Peace Boat, she befriended Yoko Furuyama, director of the Peace Boat program and discovered the organization was looking for someone to organize a unique activity for the passengers. Rika immediately thought of Chuson who came on board to create a fun educational activity which would combine learning English, cross cultural communication skills and her love of dance. Recalling her Common Beat experiences, she assembled a program based on that. Not only did passengers flock to this new program but they enjoyed it so much they wanted to continue doing it beyond their travels with Peace Boat, and — COMMON BEAT Japan was born!
Inspired by Chuson's vision, COMMON BEAT has expanded throughout Japan and is now poised to move into Taiwan and Korea with its associated groups Up with People Taiwan and Pullullim! Furthermore, Chuson dreams of the day that young people from North and South Korea will perform together with A Common Beat.
The road has not been easy. Chuson expresses that it takes a lot of hard work on the part of the cast and staff to keep things going but it is something that they all believe in very deeply.
COMMON BEAT Japan features a high energy can-do / get it done staff with CEO Ryo Adachi, musical program director Yuichi Ando, office managers Kaori Hanamiya and Aoi Maejima, among many others. Together under Chuson's vision they have carried the dream for 15 years! During that period more than 183,000 people have seen 5,000+ cast members perform 143 shows.
Their collective dream is to appear at the 20th anniversary reunion of the show, A Common Beat, in 2020 and perform the show — THAT would be awesome!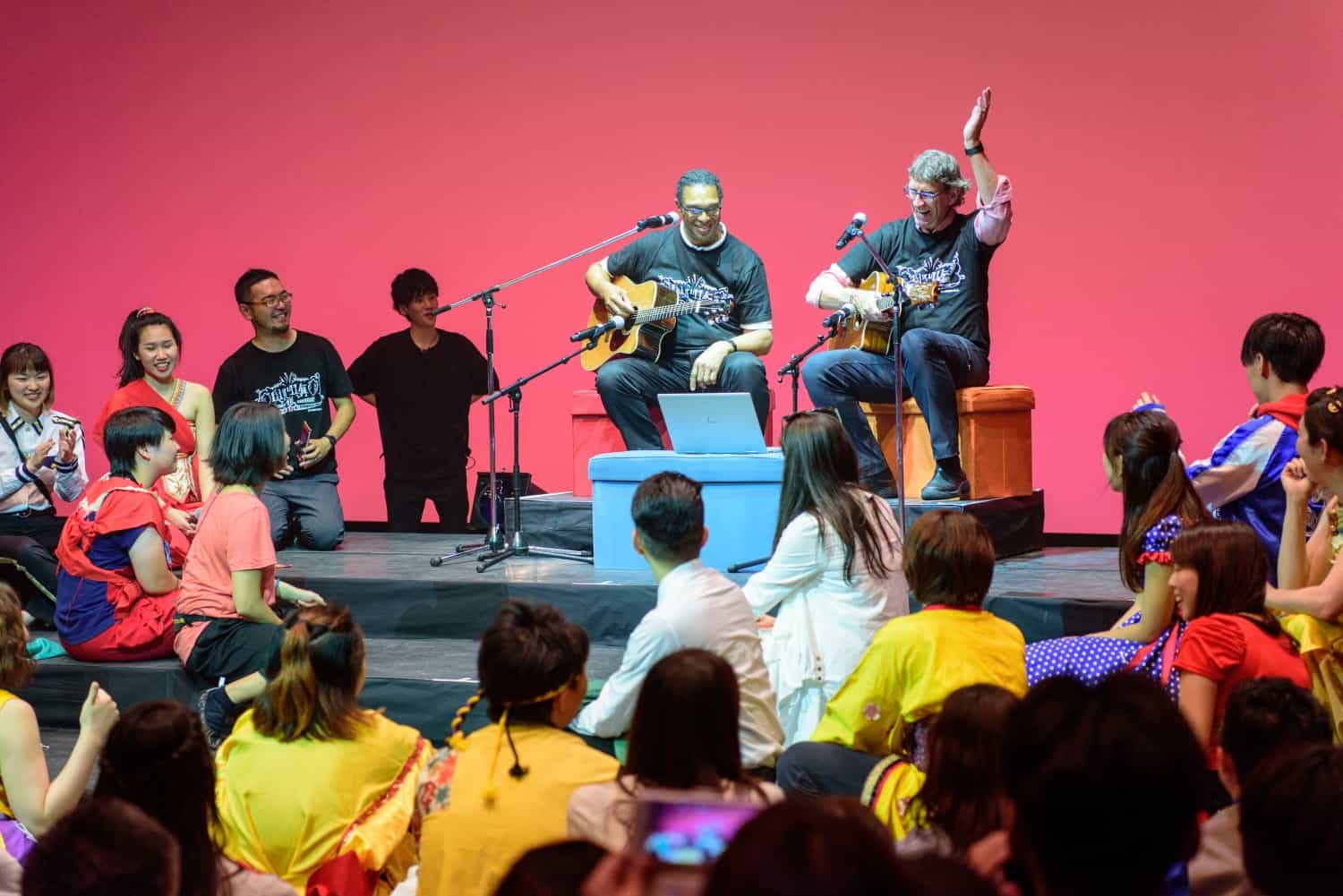 ((Ken Ashby and Pat Murphy sing a special tribute song they wrote for the "A Common Beat" cast, Domo Arigato!))
( Epilogue )
A Common Beat Japan celebrated their 15 year anniversary with a spirited performance of the production Sunday evening (May 27th). During greenroom, Ken and I presented Chuson Han with the gift of a Dream Catcher to thank ACB Japan for carrying the dream of A Common Beat forward. (The Dream Catcher was made by my father-in-law Gilbert Franco of Native American ancestry and beautifully mounted on a base designed and created by UWP alum Steven Rokowski)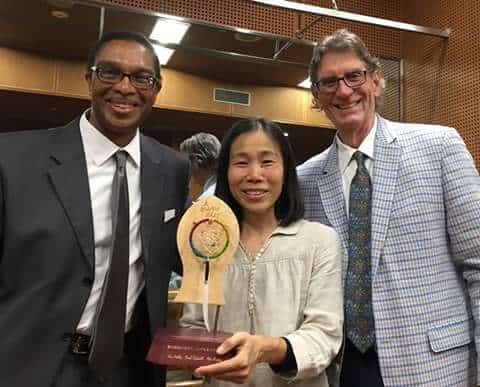 Up with People alumni who have performed with A Common Beat
Ted Agatsuma (A71, A72)
Hina Fukuda (B95)
Yoshimi Kanai (B97)
Norihito Hosoda (D98)
Tomohisa Kawabata(A99)
Motonobu Tatsuno(A99)
Chuson Han (D99)
Yoko Yokote (E00)
Mie Ono(E00)
Kano Iwanami(Hayasaka)(A00&WS04)
Mika Ohno(Ueda) (A00)
Masako Sano(Shiraga) (A00)
Hiroe Taniai (C00)
Keisuke Shibata (WS04)
Yasuyo Yoshida (A06,A07)
Peter Hollis (A07)
Chihiro Igarashi (B08)
Yume Kuchiki (B09)
Juri Nakagawa (A10)
Yukari Hanamura (A10)
Akiyoshi Kubota (B10)
Yasuhiro Tsubota (A11)
Naohiro Harada (A11)
Mari Muraoka (B11)
Sachiko Natsuhara (B11)
Mika Kimura (B11,A12)
Naohiro Yamada (B12)
Mika Tomita (A13)
Shizuya Sugimoto (A13)
Mihoko Kitano (A14)
Haruna Fujito (A14)
Momo Hoshino (B14)
Ryotaro Tsukii (B14)
Ai Imai (B14)
Yuka Shimabayashi (AB16)
Atsumi Tai (B16)
Sakie Yabu (A17)
Yuri Miyazaki (B17)
Miki Kasamatsu (B17)
Sae Uehara (B17)