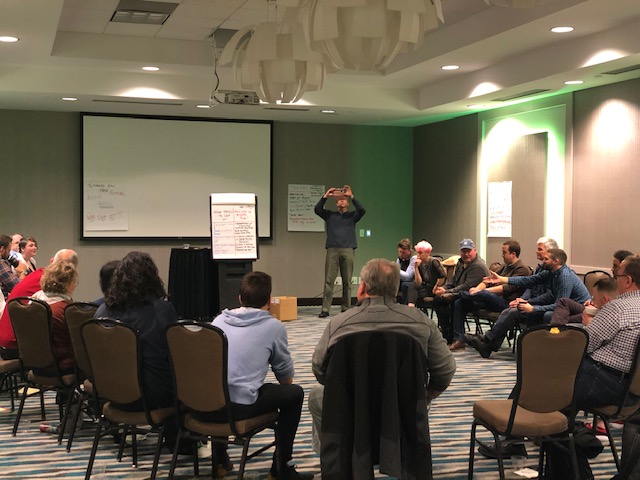 In the afternoon leading up to Up with People's 9th Annual Gala in Denver last week, a group of young alumni had the opportunity to come together with members of Up with People's Board of Directors to participate in a strategic planning session. The goal of this gathering was to "inform Up with People Board and board strategies on how to better engage and integrate young people in UWP Governance."
The group heard from UWP President and CEO Vernon Grigg III on his vision for the future of UWP. Next, board member Dennis Walto facilitated a group exercise that saw participants "stand" five years in the future and visualize UWP's many successes over that time. From there, the group then looked at challenges that might be in our way and how we could, together, mitigate those challenges to achieve the successes we outlined.
There were many great conversations and discussions as a result of this session. Young alumni left the group energized and excited about future opportunities for young alumni in UWP leadership. Below are a few key takeaways to share:
The group collectively recognized the need to formally incorporate young voices in UWP's governance. Discussion centered around allocating a seat(s) on the UWP Board for young persons or developing a youth advisory committee that supports the UWP Board.
The final exercise involved each person stating what their role would be in continuing to support UWP's success. Answers included making financial contributions regardless of amount, supporting UWP admissions, and tapping into the unique skill sets and resources of young alumni, among a list of others. This group committed to holding ourselves accountable, recognizing we all have something to contribute.
This planning session was a kicking off point for larger young alumni involvement and the UWP Board would love to add your voice to the conversation. Please reach out if you're interested in learning more about leadership opportunities and conversations on how to further engage UWP's young alumni around the world. I will compile contact information to share with the UWP Board.