Cows, cows, cows: One alumna's journey to name her herd
August 7, 2020
News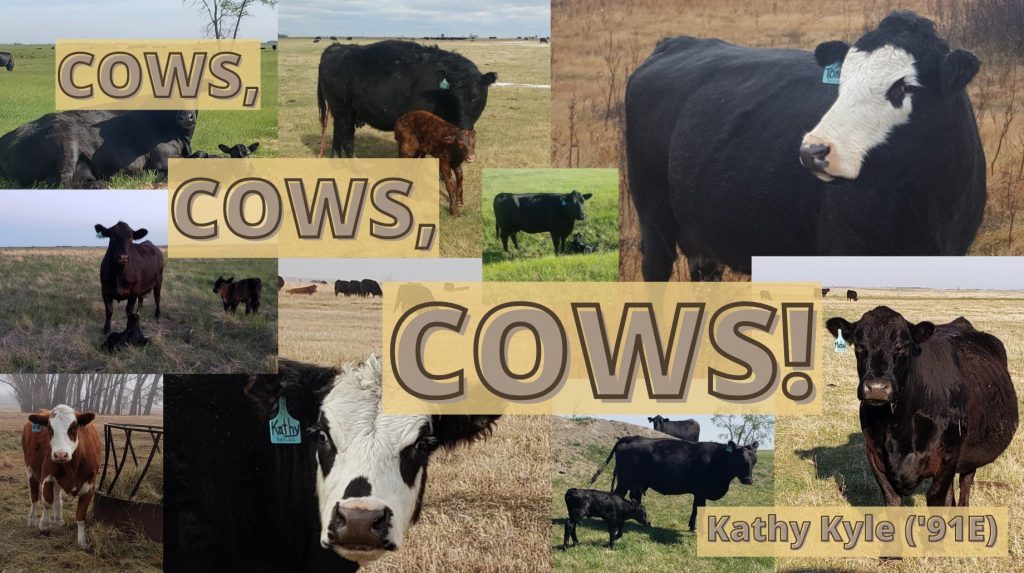 My name is Kathy Kyle and I travelled with Cast E 91.  At the time, I was a 22-year-old city girl from Saskatoon, Canada, who had a hope to work with elderly people, likely in a social work setting.
Almost 30 years later, I am in a life quite different than that initial dream.
After an amazing and challenging year on the road with 91E, I found my way into training to be a nursing home chaplain, and then to become an ordained minister. The church assigned me to two little towns in the corner of Saskatchewan. I was a single minister who was certain I would return to city life as soon as possible… the thing is, however, that within a week of arriving here I met a very memorable cowboy, Russell.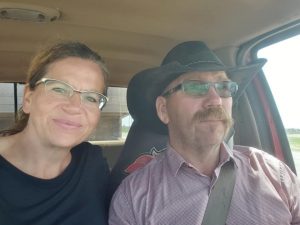 Over time, romance developed and I let go of my earlier visions of life as we married and had three children. I began to learn how to run a family business, as we became the senior generation on the ranch where Russell grew up.
A few years ago we decided to start naming our cows—we had always used numbered tags in their ears, but we all found it hard to remember numbers when reporting back about a certain cows' situation. Names seem more natural to our brains, of course!
Over the years, we've had many themes for our cows' names; we've used Disney characters and even used the names of the M*A*S*H TV show cast the year we watched all of those seasons.
What really transformed cow life for me, however, was when I asked my Facebook friends for new naming suggestions. My castmate Liz suggested naming my herd after the members of Cast E 1991, and we began to do just that.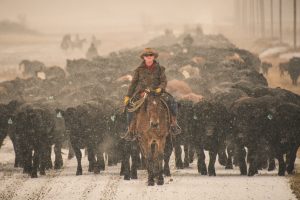 Remember, I am a city girl.  All of this does not come so naturally to me… however, with about 50 cast names in our herd of 500 cows, I have found myself more attached to the cows, more excited about seeing them and absolutely thrilled to check the herd in calving season—and find one of my UWP pals has had a baby!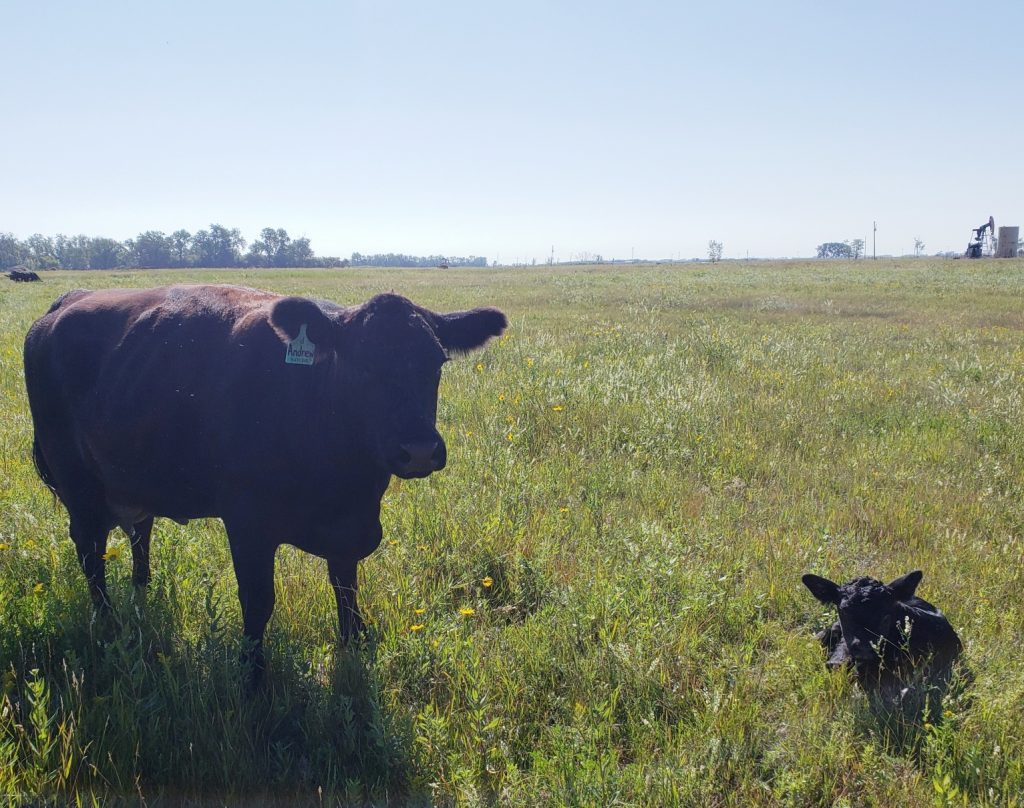 That happened just this week.  We were touring the calving cows this morning (still have eight to calve) with company, and we discovered that Andrew had a baby (we've named our female cows with male names—it feels great to have all the names out there circulating!). The enthusiasm has spread through the family.
It has given me a reason to talk to my family about my castmates; share about where they live and their communities; and recently, when we had a cast Zoom call, my family was eager to hear about who was on.

I've enjoyed getting pictures and posting them to our cast Facebook page, and it's provided a positive distraction during these COVID times. It's made the world feel a lot closer; it's genuinely been gratifying to see that others in the cast have taken some joy in this as well.
While I've worried a vegetarian person might not want a cow named after them; or that a man might not want to hear that he had a baby; or that any of us might not want to have our names associated with a cow (we have negative body associations about that in our culture!), none of that has come to my attention.
It has been a purely positive experience, and I am so thankful that Liz suggested this!
As cows lose their ear tags (and therefore need a replacement), or as old cows get culled and replaced with new ones, we look forward to continuing to invite cast member names into our herd. We are always glad to find sources of fun in our everyday living, and I encourage everyone to do so—whether you have a cow herd or not.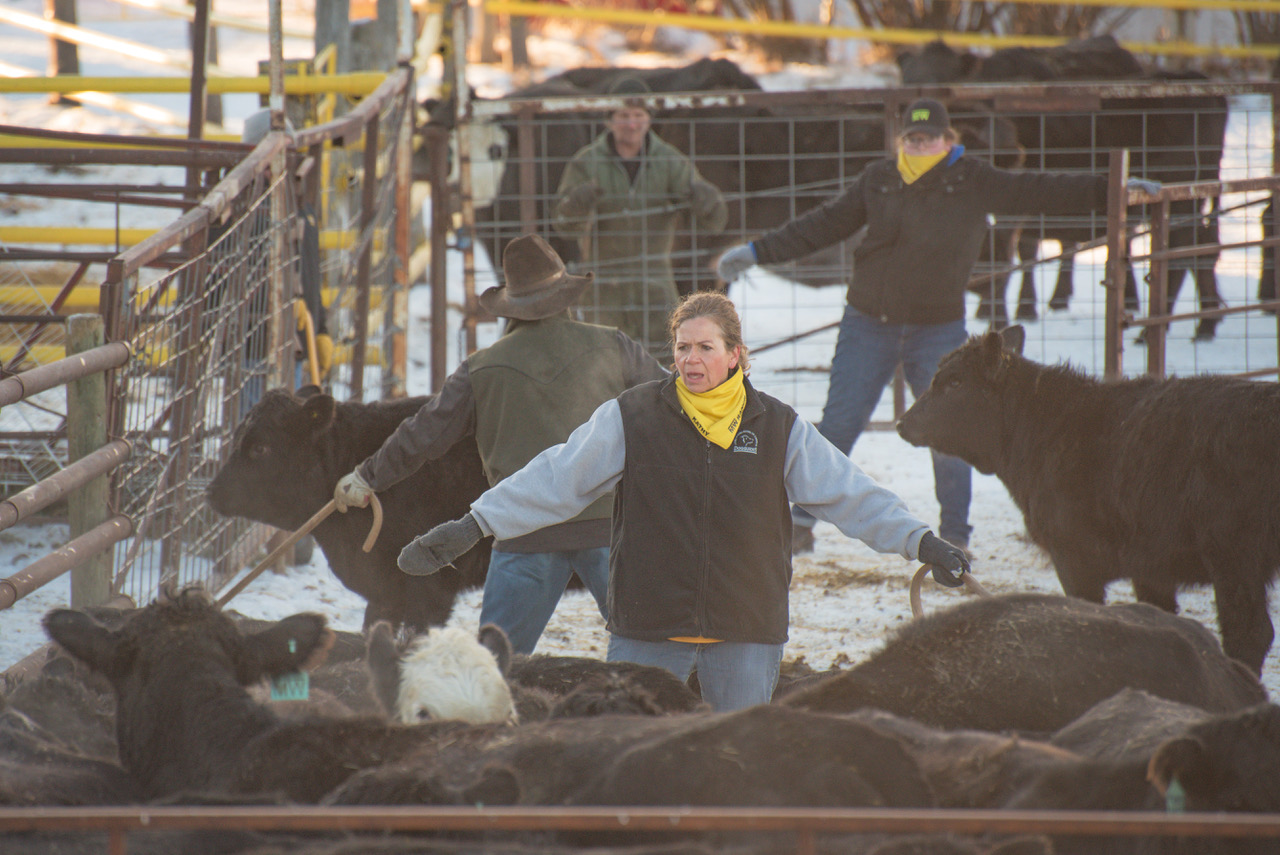 ---