CritConvos Series #1: Links and Recaps
October 20, 2020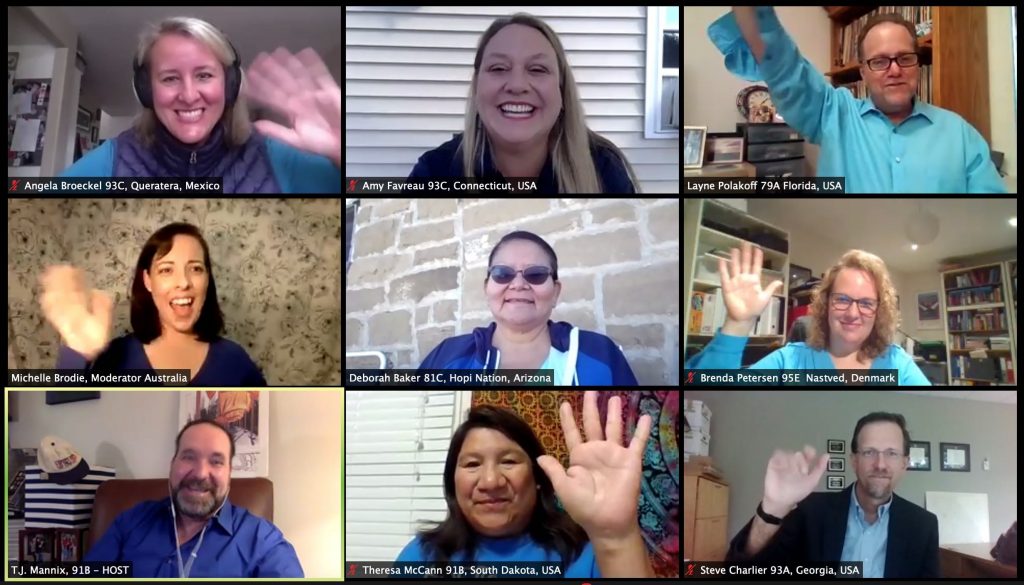 Series #1: Success with Education during COVID is officially a wrap. The three-week series explored just how educators, parents and the students themselves are navigating the global pandemic—from virtual distanced learning to new in-person protocols and juggling school/life/work all at once, our panelists provided a look into their ongoing, ever-changing reality.
Alumni interested in these conversations can watch each of the three episodes at the links. Below, find show recaps from each episode compiled by members of ProComm.
---
Episode 1: Insight from Educators
As an audience participant, these are the learning points I jotted down:
WIN – such a nice concept.
"WHAT I NEED." So glad someone labelled and categorized this essential part to learning. "What I need" refers to a student's need for Water, Food, Bathroom Break.. whatever student feels he must have to continue his learning process at that moment.
It's a code word for the in-person or virtual learning student.
2. The Need for an Adult-to-Adult helping hand.. you never hear this verbalized either, but on reflection, realize this too is an integral part of today's "new normal" learning process.
A teacher's need to take a break, a breath, to vent to another non-judgmental adult, while they get their feet back under them and straighten their head to focus on their purpose for being there: to increase student's knowledge.
I guess this is known teacher-to-teacher, or administrator, but not generally brought to the mind of the average adult. The old saying: "teachers are human too" but must present the teacher/adult face at all times… even with all the additional challenges of today's digital form of teaching. One forgets that there may be a saturation point… and it may not wait until you are safely home. :/
The schools that work this into their school's daily strategies for coping are that much ahead.
Most Enjoyable/Teaching Moment:
The Florida Administrator that spoke of the challenges of virtual learning in Being Able To See Everything in that child's home environment. !! .. a joint as big as a cigar??!!
I was blown away to hear it straight from her mouth, so to say… Instead of being an internet maybe exaggerated supposition, it brings it home to hear it straight from a person who has seen it! Bravo, Donni. This is what we need: reality and truth from the front lines. That's it.
Charmain Baker
Sing-Out '65
---
Episode 2: Success Stories from Parents
October 3, 2020
Host: T.J. Mannix (91B), from New York, NY, USA
Moderator: Michelle Brodie, from Adelaide, Australia
Panelist: Lawreida Cartwright (91B), from Hamilton, Bermuda
Panelist: Tony Everett (91B, 93D), from Brooklyn, NY, USA
Panelist: Fernando Garcia Ramirez (80C), from Obregon, Sonora, Mexico
This webinar is composed of "Up With People" parents who agreed to tell their stories of how they are
dealing with virtual education during COVID. Lawreida Cartwright has three children: 26-year-old Lawray, 17 year-old Obi Jr, and 13-year-old Jaden. Tony Everett's daughter, Serafina, is a 19-year-old college freshman at Pottsdam University. Fernando Garcia has two children: Gabriela, who is 22 years old, and Cecilia, who is 19 years old.
The conversation commences with all three parents providing an update of their current situations. Lawreida says that she and her family have been dealing with the hurricanes; two in the last month alone. She says they play Monopoly and listen to the winds during the worst of the storms. She notes that today, "Home Schooling" has a slightly different meaning. Now they don't have to make up the curriculum or do the grading; the virtual teacher does all of that and all you have to do is monitor what the teachers are trying to teach. She said she has to "UNDERSTAND HOW MY CHILD LEARNS". For example, her son Jaden can't handle distraction. Obi, on the other hand, needs noise and distraction, so he struggles more at home. She says in reassuring her children that all their questions and concerns are important and valid, their bond has been strengthened.
Tony describes the present situation as "global isolation", and that Nature has commanded some respect. His daughter is into music but also into welding. He noticed that one of her fellow students was also doing welding and he was the only one that passed the fatherly inspection. Tony believes that his daughter has grown tremendously during her time at college, contacting them regularly to say she is fine.
Fernando says he has no complaints about being a parent of students during this unprecedented situation, and that he has gained a lot of respect for teachers). He does have to be flexible with different schedules, but one thing has definitely changed: he doesn't have to take them to school.
The conversation touches on family relations: Michelle asks Lawreida if Jaden's and Obi Jr.'s brother-to-brother relationship has been strengthened, and Lawreida affirms: Yes, the respect has increased because each is now "Understanding Who His Brother Is", and not only regarding classroom issues: Obi Jr. is the baker. Jaden says "Can I help?" and I come in to oversee. We're all in the conversation and it became FUN. Preparing the food together brought us together. Fernando says they watch movies and that the whole family comes over to watch, and that they enjoy this time together.
Tony says that he and his daughter have shared a lot of "Quality Time" together, and he hopes that this will help to set the foundation for her to make good decisions in the future. Lawreida notes that the demands of COVID (masks, social distancing, etc.) have caused an increase of a certain level of maturity; their communication has increased. She believes that COVID has increased Family-ness in a good way. "The values we have instilled have become more apparent in this COVID time."
Fernando agreed: "Their values are going to stay in there for the rest of their lives." Tony says watching out for COVID safety on both parties – him watching her grow up and her watching him garden – has been a great "teachable moment" for both of us.
The conversation concluded with a few observations: Michelle remarks on the abundance of love generated by the children and parents being together, and returning that love youth-to-youth, youth-to-parent: the eternal lesson of love being strengthened by and through hardship. Children who are home with other children and having to deal with the new form of education saw their siblings in a different light, including their strengths, and gained a New Respect, as echoed by their parents.
---
Episode 3: Reality Checks from the Kids
October 10, 2020
Host: T.J. Mannix (91B), from New York, NY, USA
Moderator: Michelle Brodie, from Adelaide, Australia
Panelist: Paul, 10, in Grade 6, son of Jenn Hiller-Hu (93C), from Toronto, Canada
Panelist: Karl, 13, in Grade 7, son of Petra (93C), from Hamburg, Germany
Panelist: Noah, 9, in Grade 4, son of Lisa Tobias (93C), from Toronto, Canada
Panelist: JD, 18, in Grade 12, son of Tara Gorman (86C), from Washington, DC, USA
Panelist: Tinley, 15, in Grade 9, daughter of Tara Gorman (86C), from Washington, DC, USA
Panelist: Claire, 13, in Grade 7, daughter of Cheryl & Lars Huebecker (both 91F), from Atlanta, Georgia, USA
This webinar is composed of children of "Up With People" alumni who agreed to tell their stories of how they are dealing with virtual education during COVID.
The conversation starts with several of the kids who know each other (because their parents are all from cast 93C) talking about "Kids Calls" that they conduct regularly.  They figure, if our parents can have fun talking to their castmates over Zoom, why can't the kids do the same?  They have "Scavenger Hunts", "Expression Sessions", and "Dog Tricks".  
JD and Tinley, brother and sister, join the session together.  Not only is their mom an alumna, but their other brother, Matt, also traveled in UWP in recent years.  They remark on how fun it is to have "family" around the world due to both their mom's and brother's involvement with UWP.
Claire's parents were a cast couple, so she and her older brother, Nick, have an even broader perspective on the extended UWP "family", since her mom is from the states and her dad is from Germany.
The conversation gets into how the kids are learning and managing friendships during the coronavirus situation.
Paul says that his previous school year ended online, but this current school year in-person, except for one student who is still at home.  In their school, they wear masks throughout the entire school day except for recess, when they can go outside maskless.  They currently eat their lunch in the classroom, too.
Karl tells a similar story, where in-person classes are being held, with the students wearing masks throughout the day.  Noah's teacher allows them to take "mask breaks" in school as well as at recess.
Claire is still in online learning, with the option of returning to the classroom in a few weeks.  She, however, is opting to stay at home with remote learning until January – although she believes they learn less online as opposed to face-to-face.  She only sees her friends rarely, depending on parent restrictions.
Tinley and JD are also learning all online.  The school day is as full as it would be in person, along with homework.  Tinley finds it difficult to be away from her friends, although she tries to keep daily contact with her close friends.  She's learning who her true friends are.  JD has issues with the way the school board has handled this remote learning situation. 
During the five-minute break, young Noah takes advantage of his mad whiz-kid skillz to "hack" into the video break and display his artistic creativity. A must-see!
The second half of the session touches on other aspects of the school day, such as physical education, sports, music, and extra-curricular activities.  Many remark that those breaks for alternative activities during the school day help to make them more successful in all their classwork.  Those who attend class in-person at school shared their safety concerns.
The conversation concluded with a few observations: Each of the young panelists note that they believe they have become more tolerant of their siblings, and have even become closer than before.  Many are still uncertain of the future of their education; they don't know if they will go back to how it was before or if this new situation will continue into the next years