Coming Up, Series #2: Racism On Tour
October 17, 2020
News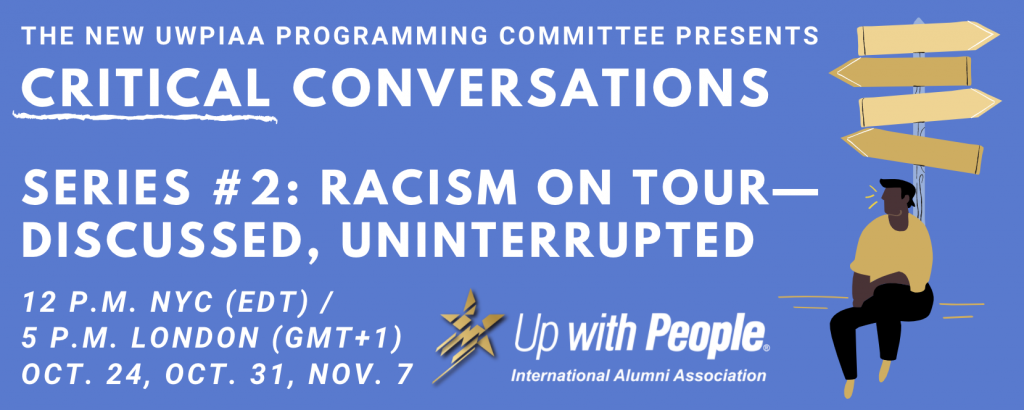 While Series #1 had one registration link for all three episodes, please note Series #2 has a separate registration for each episode.
Each episode will feature a pre-selected alumni panel along with program host, T. J. Mannix ('91B), and be professionally moderated by a non-alumnus/a. All will take place on Saturdays and begin at 12 p.m. EDT / 6 p.m. GMT+2 / 1 a.m. GMT+9 (Sunday). These events will be live via Zoom and also watchable afterwards on our YouTube account.
Critical Conversations Series #2: Racism on Tour—Discussed, Uninterrupted will begin on October 24. The three episodes will cover the male BIPOC experience, a look into the immigrant experience in Europe and explore allyship.
All alumni are invited to tune in, join the Q&A, or even participate on a future panel in these Critical Conversations. Additionally, we are seeking alumni specifically with personal experience in the upcoming series topics to serve as panelists.
If you, or a fellow castmate, feel you could contribute as a panelist for a Series #2 CritConvo, please contact us at iaa_programs@uwpiaa.org.
---
Moderator: Will Jones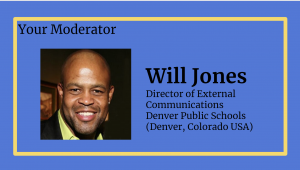 Will Jones is an award-winning public relations and broadcast professional who has more than two decades of public relations, marketing and on-air broadcast experience. He currently serves as the Director of External Communications for the Greater Denver Public School District.  In this role,  Will manages all facets of external communications for the fastest-growing urban school district in the United States in terms of enrollment, comprising more than 200 schools with a total enrollment of more than 92,000 students. While serving as the primary spokesperson for the school district to broadcast, print and online media, he simultaneously direct crisis communications during emergencies and works closely with others in the district's incident command structure to disseminate accurate information to the public including parents and media sources.  Will has also served as the External Communications Manager for the University of Denver and as a News Anchor for WCNC-TV.
_
---
Host: T.J. Mannix ('91B)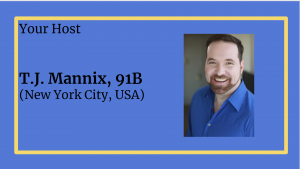 T.J. Mannix traveled in Cast 91B, and on road staff in 92B, 93C, and 94D He teaches acting, on-camera auditioning, and improvisation in NYC at Circle in the Square on Broadway, the Professional Conservatory of Musical Theatre, NY Film Academy, and the Montclair Film Festival. T.J. Is a graduate of the University of Miami. He has appeared in more than 85 TV commercials and voiceovers – along with roles on Law and Order: SVU, Law and Order, Law and Order: Criminal Intent, All My Children, One Life to Live, As the World Turns.