Rendezvous–September 15-18
John ('65A) and Ann ('66A) Parker
September 12, 2022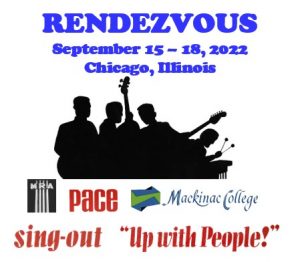 Rendezvous was created to celebrate the men and women who led and worked with MRA, who inspired and were the framework for the creation of PACE, Mackinac College, Sing-Out and Up with People. We will hear the future plans of the UWPIAA shared by Debbie Lagomarsino, '68B and UWP, shared by the new President and CEO, Seema Srivastava. We will see historic video about each of these organizations. The combination of these entities had a major impact on each of us individually and in ways we will never know cumulatively around the world. It also gave us the tools to make positive contributions with our lives.
Friday and Saturday nights we celebrate the music and songwriters who inspired the phenomenon of Sing-Out and Up with People. This music inspired young people from many nations and diverse races to join together in creating a unique experience of working, living, and demonstrating how all people, from various walks of life and nationalities, could come together in an expression of positivity and hope. This effort combined with the inspiring songs and music went on to fill arenas, theaters, and bull rings, and was shown on national and international television shows. It was also the inspiration for the creation of 750 national and international Sing-Outs. The legacy of this shared experience has created a community of 22,000 alumni around the world.
It was a stroke of good fortune to learn that Paul Colwell, Bonnie Knight, Pat Murphy and Ron Beckett had been working for some time to preserve, update, and brainstorm on ways to reintroduce Up with People's greatest hits. The songwriters have also been writing new songs that embrace the spirit of previously written Up with People music. These new songs are tackling the issues of today, just as the established songs were written in reflection of their time in the world. They have worked tirelessly with Ken Doran and Cici Hunt to create these two musical evenings.
We hope to accomplish our goal in these two musical evenings of honoring the music that inspired us then, and to share the new music which will keep our shared legacy alive and vibrant now and into the future.
Many thanks to all the singers, musicians, technical support folks and volunteers, who have been rehearsing and working for many months to make these shows outstanding. And, a special thanks to Don Kagin, '69A and '70A for sponsoring the livestreaming of the event. This will allow so many more alumni and friends to view the event while it happens, and to revisit the streams, which will remain on the UWPIAA public Facebook page for viewing. Multiple interactive Zoom sessions will take place as well to allow those in attendance and those at home to connect, reminisce and reflect on the experience.
Surely these two evenings will bring back many fond memories and experiences. Thank you for coming and showing your appreciation for what we accomplished in the day and for all the effort put into these productions.
For more information, visit the Rendezvous website. If you cannot attend, but would like to support the event, which experienced large fees and penalties for the organizers when it had to be canceled in 2021, please visit https://gofund.me/fc2b3b7a. The fund will be closed when the break even point is reached. This is a project BY alumni, FOR alumni. Your support is greatly appreciated!