UWPIAA is Launching into A New Dimension
UWPIAA - Lisa Diaz, ('98C, USA), Interim Communications Chair,Zan Diener, ('91E, USA), Future Chair,Marisa Connors, ('95E, USA)
May 1, 2021
Alumni Experiences|Asia Report|Era Reports|Europe|Events|Latin Report|News|Up With People News
The Up with People International Alumni Association (UWPIAA) has approved a completely new vision, mission, and board structure to launch into A New Dimension.
President Terry "T" McCreary, ('68-'71, USA), says, "The UWPIAA is at a crossroads; we need to find a way to meet the wants and needs of our broader alumni base. So, we are implementing a path forward that is flexible, adaptable, and scalable, either up or down. Our goal is to inspire our members to remain engaged in the lifelong Up with People experience."
Over the last year and a half, our UWPIAA Future Committee, led by Chair Zan Diener, ('91E, USA), has been hard at work considering all the options available. They were tasked with re-envisioning the alumni association from scratch and developing programs and business models to make the IAA more viable over the long-term.
After conducting significant research with our alumni body, they found two main areas of alumni interest. Some alumni were primarily interested in travel and reuniting with friends, while others sought more networking, advocacy, education, and community service opportunities.
This alumni feedback was used to focus the work of the committee and to create a forward looking plan and recommendations for the UWPIAA. The suggestions are that we improve communication and engagement with alumni through their preferred channels, create more impactful and geographically diverse worldwide events, and develop new revenue streams. The changes to the UWPIAA will provide a way to achieve all these goals.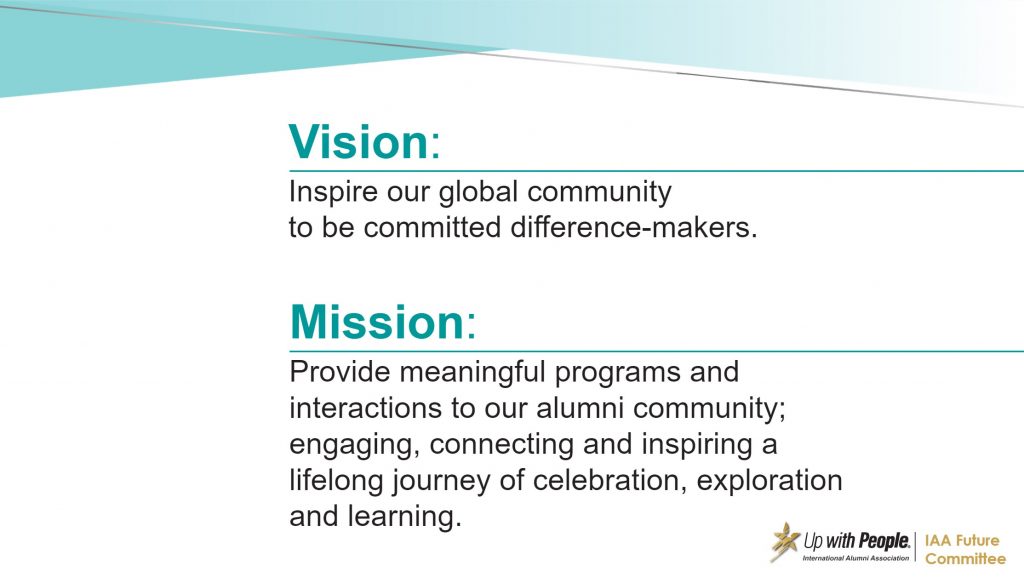 New Vision:
Inspire our global community to be committed difference-makers.
New Mission:
Provide meaningful programs and interactions to our alumni community, engaging, connecting, and inspiring a lifelong journey of celebration, exploration, and learning.
Top Three Priorities:
Strengthening communication with alumni in their preferred channels, with an improved website and new database.
Delivering an in-person annual global alumni week.
Inspiring alumni through relevant programs like Critical Conversations, the alumTALK program, and Expression Sessions.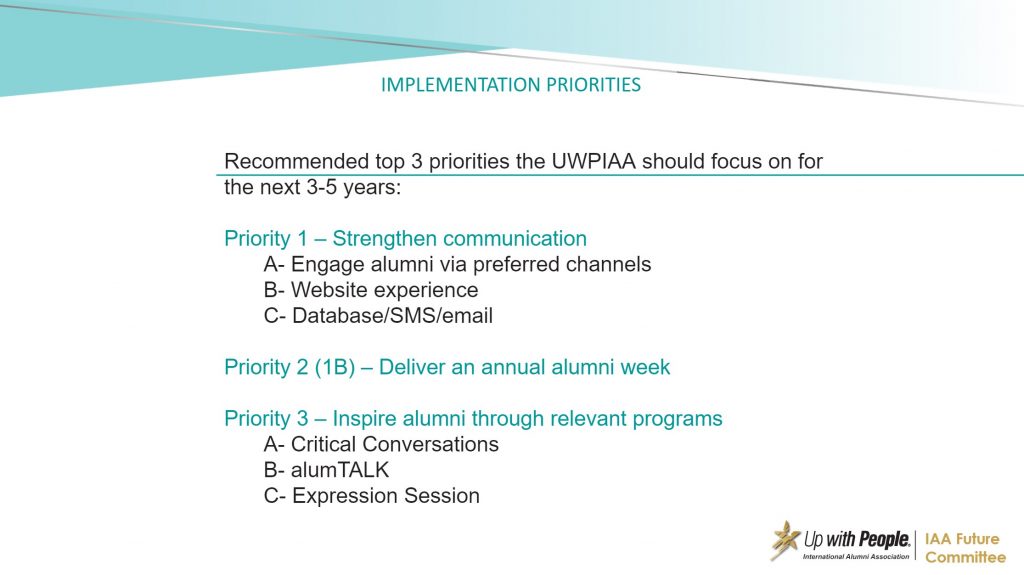 We will focus on these goals over the next three to five years to make sure we can deliver and sustain quality programs with the hope and intent to expand and adapt them in future years to meet the changing needs of our alumni body.
A New Board of Governors Structure:
Achieving these goals will require a new board structure unlike any we have ever had before and will provide many more opportunities for alumni to get involved. The new board, starting in September 2021, will consist of 12 new committees and committee chairs will be the voting board members.  There will still be a President, Vice President, Secretary and Treasurer on the board, and in some years also a President Elect. Also, the reunion committee will carry over through the 2023 reunion when other committees take over the logistics of the annual Alumni Week.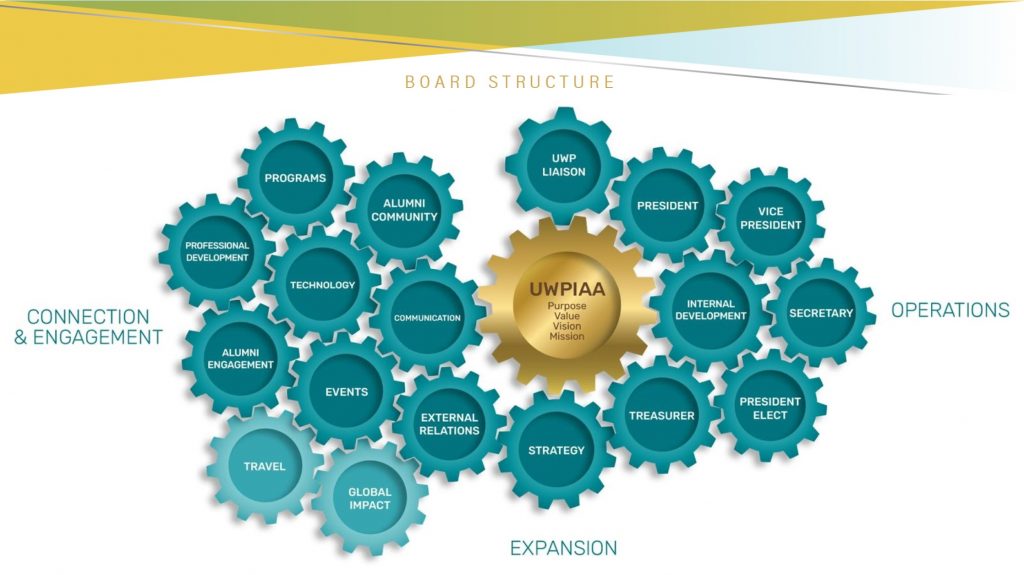 New Committees:
Alumni Community (Era and Regional Reps)
Alumni Engagement
Communications
Events
External Relations
Internal Development
Professional Development
Programs
Strategy
Technology
Travel
Global Impact (Starting in 2022)
How can I get involved?
Full committee descriptions, duties and responsibilities are posted here and the deadline to apply for one of the new BOG Committee Chair positions is June 4, 2021.  Elections will take place in July 2021. The new board will start September 1, 2021.  We will start with a hybrid approach to ensure continuity and minimize risk.  In 2021, some members will be board elected and some will be elected by the entire alumni body, but by 2024, all members of the UWPIAA Board of Governors will be elected by the entire alumni body.
[rara_call_to_action title="" button_text="Committee Descriptions and Committee Chair Application Form" button_url="https://upwithpeople.org/alumni/about/alumni-bog-committees/" target="_blank" button_align="left"][/rara_call_to_action]
What is the annual Alumni Week?
The best of the reunions of the past will be folded into an annual global Alumni Week; rather than just a reunion with a couple of events we are expanding it into a weeklong event that will offer more choices and experiences.
A final plan is not set in stone yet, but we envision pre- and post-reunion events to encourage alumni to bring friends and family with them. If you simply want to spend more time with your cast, you will be able to do that, but we will also have more opportunities for alumni who want to be critically engaged and learn about the culture of the country where the reunion is taking place.
In the past alumni had to pay one fee for the reunion, and it was the same for everyone. For Alumni Week we are looking at the possibility of a more à la carte menu of opportunities, tours and study groups in addition to a total package option.  We also envision having a variety of lodging options in different price ranges.
The annual Alumni Week will be moved from region to region all over the world and we also plan to have some virtual experiences for alumni to be able to join in from home if they cannot travel.
Thank You to Our UWPIAA Future Committee Strategy Group
(July 2020 – August 2021)
Giselle Kuri, ('13A, México)
Henna Hulkkonen, ('91B, Finland)
Marisa Connors, ('95E, USA)
Mary McCullough, ('90B, Ireland)
Rosalba Flores, ('95D, México)
Zan Diener, ('91E, USA), Chair
CHORUS
We're launching into a new dimension, yeah! Yeah!
We're launching into a new dimension, oh, yeah!
And you can come along if you wanna,
It's a never been world that we're gonna see.
We're launching into a new dimension, yeah!
Problems, hang-ups, don't you see,
Belong to yesterday.
This generation is future bound,
We're hanging in there all the way.
CHORUS
Like a summer storm that's forming up,
You can see the sign.
It's the coming all together of
Ev'ry heart and soul and mind.
CHORUS

Appears on Album: Frontiers Of Tomorrow, Up With People III, Up With People!
Writing Credits: Words & Music by: John Tracy, Mary Lee Delaney, Finis Fator
Copyright © 1968 by Up with People