Thank you to everyone who joined the Up with People International Alumni Association in hosting Up with People President & CEO, Vernon C. Grigg III for a special Facebook Live event this past Saturday. We had a wonderful turnout from all over the world and the comments were well appreciated.
Due to some technical issues and running out of time, Vernon was unable to see your questions as they came in and we were unable to relay all the questions to him during the live feed. We have put together a list below of all the questions with Vernon's answers to help elaborate on any topic that may not have been covered.
For those that are looking for more specific information throughout the video, we have also provided a breakdown of topics based on when they appear in the video for your convenience.
Introduction (3:50)
Overview of Status of UWP (4:45)
Successes (10:10)
Current Initiatives (15:20)
Recognizing the loss of UWP constituents of COVID-19 (22:50)
The Matching Fund & Giving Tuesday (24:00)
Q&A (30:55)
Closing Statement: (46:40)
---
Q: How would you like alumni to help?
Alumni have asked how they can help Up with People during this uncertain time and there are so many ways in which you can:

Invite Vernon to join on a cast Zoom call by emailing info@upwithpeople.org.
Donate your time and talents! We know that our alumni base of over 22,000+ individuals covers a world of so many different talents and expertise. If you or your organization/business has something they would like to offer to future casts, please email ideas@upwithpeople.org and submit your ideas for donating time and talent.
Some of you have written papers or dissertations about UWP – we would love to see those! Please email any resources you have to ideas@upwithpeople.org
Share your stories! While we may not have a cast on the road now, our future casts want to hear from you! Share a small circle of hope for a big circle of change. You can do this by:

Sending us a message on Facebook at Facebook.com/upwithpeople and share your experience traveling in Up with People and how it has impacted your life for us to share on our blog or social media channels.
Share your top 3 moments traveling in Up with People on your own personal social media accounts and tag 3 friends.

Recruit! If you're a parent, look around and find other parents of travel aged students for future programs. Finding one person is the equivalent of a $17K donation and impacts the life of an individual to be able to have the same experience you did when you traveled!
Tell us how you want to support Up with People! We are always open to suggestions on how we can continue to improve how alumni are engaged with our community. Realizing that we have a smaller staff now that works diligently every single day to make all three programs of our organization fruitful during these difficult times, please be realistic with the organizational restraints we may currently have. Please submit these as well to ideas@upwithepople.org.
Q: When will you know if there is going to be a cast B 2020?
This pandemic has spread uncertainty around the globe. Up with People is no exception. Our staff is currently working with public health sources, the board of directors, and key stakeholders to make informed decisions. We are watching global companies and world leaders who are all closely monitoring key factors and decision points in order to make that decision. The simple answer is "we simply don't know right now." What we do know is that starting again and having to suspend another tour is what we absolutely don't want to do. We hope to have more details regarding the tour as the global situation unfolds in the upcoming weeks. As we all know, there are still many travel restrictions throughout the world based upon each country's government which prevent some individuals from participating programs like ours. There are also many other factors including but limited to host families, meals, and potential cast members willingness to travel that can impact how, when, and if we continue with a fall tour. We appreciate everyone's patience while we navigate and innovate to make this possible.
Q: Will you be looking to add more casts going forward?
Yes, eventually. But first, we must grow our present cast to a point of operational efficiency. We have excess capacity, which means we need to do more to build participation. With the right ideas, the right message, and right energy, more casts will grow naturally as students look for more alternatives to formal education at this time. Currently, we are focusing on our current cast rotation.
Q: Is there an anticipated timeframe for announcing "new" direction(s)?
While we do not have a specific deadline yet, we can tell you that we have a dedicated, talented team that is working every day to build out our process. Our goal is to have something substantive to report by late summer/early fall. Along the way, we will be providing many opportunities to be a part of the process and dialogues. The reality that we don't know if "post-pandemic" is six weeks, six months or 18 months from now. Thank you for giving us grace as we understand, imagine, and evolve into a program for the future 
Q: How can we invite Vernon to join our Zoom calls with our casts?
Absolutely! Please email info@upwithpeople.org with a request and we will try to coordinate a time for Vernon to join your cast call.
Q: When will Cast A20 participants who are unable to travel in a future cast receive refunds?
We are still figuring out the logistics with regards to future casts. We hope to have more information on that by the end of May. We also understand that some students have unique situations and we are working on those as well. 
Q: So many casts are now gathering on a regular basis and have an opportunity to collect updated contact information. Is there a way for the cast reps or at least the Era Reps to update the data base?
Q: Will Vernon and Terry McCreary ever do a combined livestream?
We hope to be able to have Vernon and Terry on a livestream together at some point in the future. For now, we will be focusing our efforts on furthering the future of Up with People.
Q: How can we set up the monthly payments?
Thank you so much for wanting to set this up! The sustained commitment of your support means the world to us as we continue moving forward. Please visit upwithpeople.org/give to set up your monthly payments. While going through the donation process on our giving page, you can check the box that says "Make this a reoccurring gift" to set up your monthly payments. While the default is currently set to $100.00, please adjust your gift for what is right for you. Every dollar helps! You can also see the graphic below for instructions on how to set up your monthly giving payments.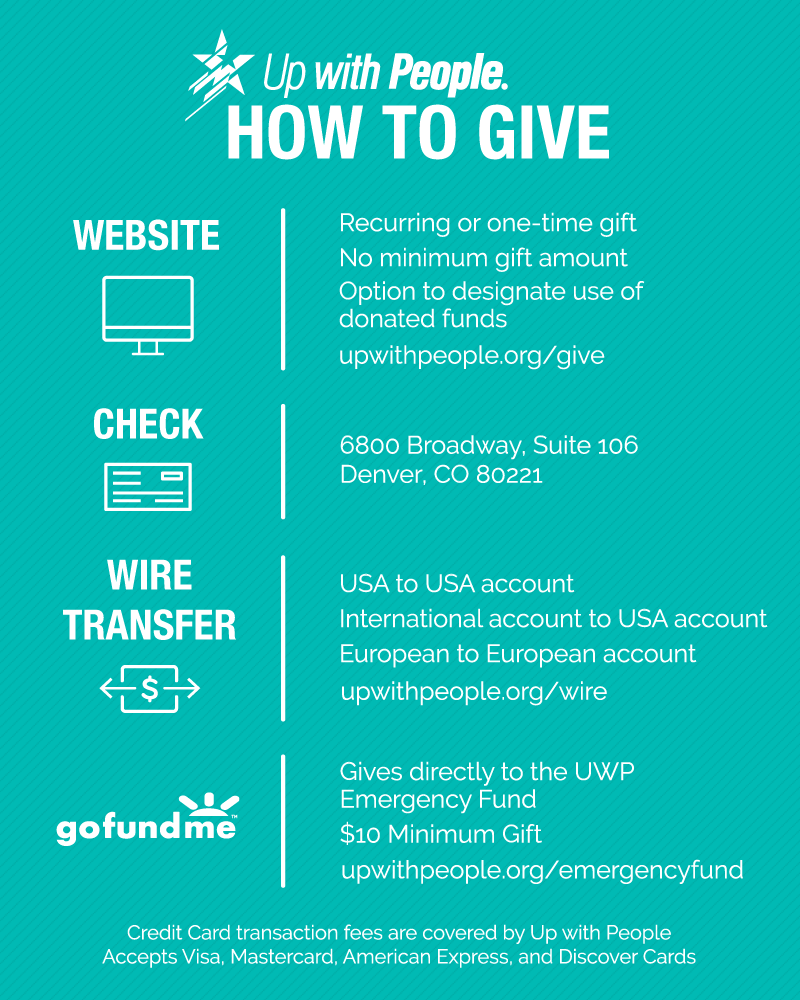 Q: How long in the present situation can Up with People sustain operations?
It has been a long journey for us over the last few months. We have done what is necessary along the way to maintain an appropriate level of operational capacity. Our goal, with your help, is at least until January 2021. Your incredible support on #GivingTuesdayNow and towards the Emergency Fund goes a long way towards making this possible. We do not intend to stop working towards building a better, stronger organization for the future. As this goes on. we know we will have to continue to pare down to the absolute essentials in order to survive. Our goal is to survive, evolve and come back in a position to grow and thrive.