World Singing Day 2023
October 8, 2023
Alumni-Planned Events
Founded by Up with People (UWP) alumnus Scott Johnson ('83D), the 12th Annual World Singing Day (WSD) takes place around the world on Saturday, October 21, 2023. Alumni, their friends and families, and non-alumni alike will be gathering in venues of their choosing around the globe to sing together and celebrate our common humanity.
All are invited to participate, whether you have before or this will be your first year! We all know the undeniable power of music to make a difference in people's lives. Alumni have had the experience of the show and may have other personal experiences; be it through a host family that asked you to sing a song from the show; or the song your Sound Tech always used to balance the house; or the one song your cast/crew sang together that holds relevance for you to this day.
You are welcome to join an existing event, host your own, sing at home and/or post a video of you singing this year's WSD song, Lean on Me on social media!!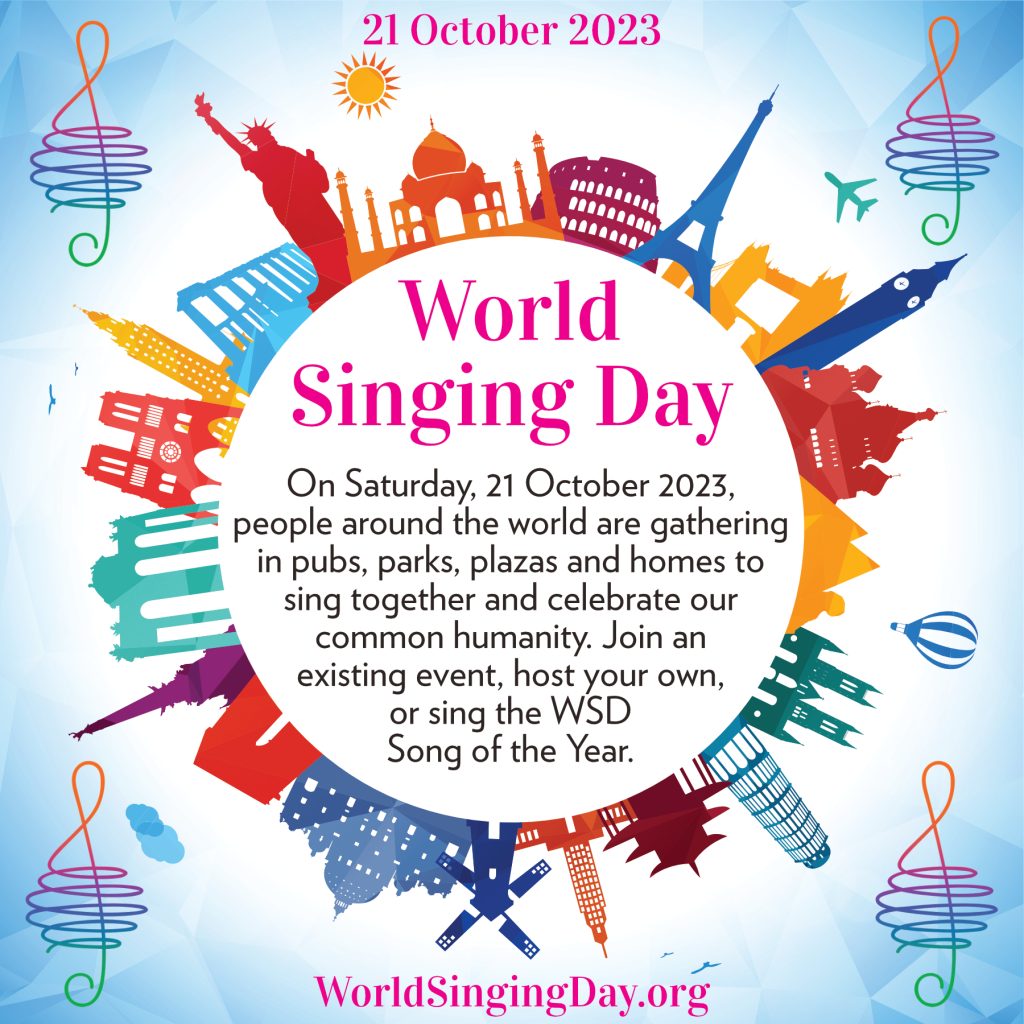 Visit www.worldsingingday.org for more info!
This year's WSD theme of Mental Health Awareness was inspired by the death of UWP alumnus Eduardo Aguirre, ('84E, '85A, '86D, '88E, '89D, '92C, '93C, '06A, '06CAP, Staff).
Visit the WSD website to learn ways that you may participate (all ages, backgrounds and singing abilities are welcome!) and to see if there is already an event in your area or if you might wish to offer one!
Singing together has been proven to be one of the quickest ways to bond friends and strangers alike. I started World Singing Day to give people the opportunity to experience that human connection in an inviting and joyful community setting. Our global sing-along is a fun and effective way to celebrate our global family through the international language of music. I hope you'll join us.

– Scott Johnson, Founder, World Singing Day Boulder, Colorado USA
Wherever you participate, be sure to include the WSD Song-of-the-Year, Lean On Me!!
Keep your eyes open for alumni in the footage that accompanies this year's song! Post below if you spotted someone and let us know where you will be participating this year!!!