Reunion 2023 Highlights
October 9, 2023
Reunion 2023 was by all standards a very successful event, hosted by your all-volunteer UWPIAA Board of Governors and a stellar volunteer team. Thanks to all who joined us onsite and those who enjoyed some of the main stage events which were streamed to our public Facebook page.
There were 760 registrants, including alumni, guests, Cast K and T participants and volunteers. The most commonly spoken language after English was German, followed by Spanish and French.
Sessions were offered to share updates from both the UWPIAA and UWP, there were opportunities to hear from three alumni authors, and to participate in workshops on anti-racism and of course time with friends!!!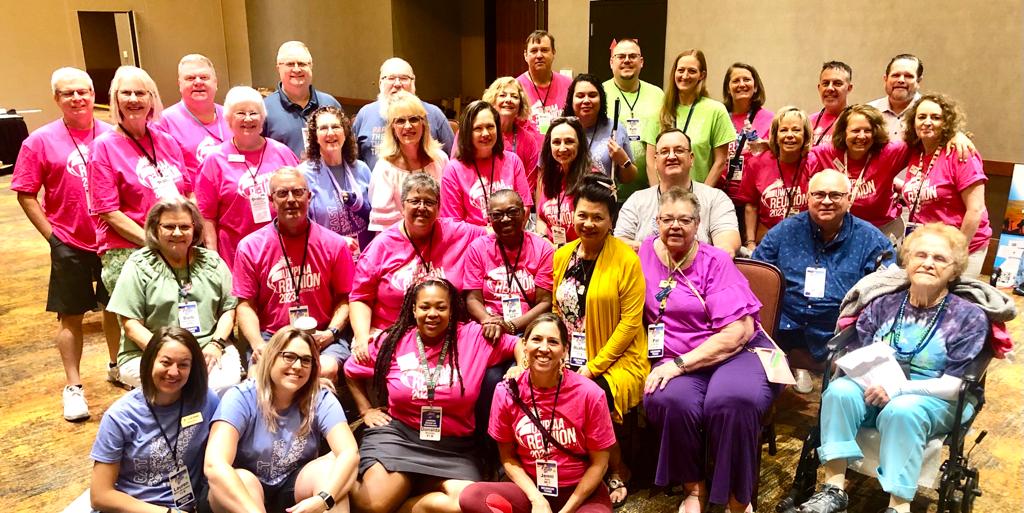 Reunion would not be possible without the countless hours of our volunteer team, consisting of long-time reunion supporters from Tucson, Arizona, and from around the globe. Many of their tasks are unseen and unknown–checking and sorting name badges, scouring the materials for any errors and determining the signs that will be needed.
Many thanks to them for their dedication and commitment to making Reunion 2023 a welcoming space for everyone!
Thanks also to the 227 alumni in attendance who responded to the Reunion 2023 survey! We appreciate hearing from you on this survey and any time we ask for input! It helps us shape what we offer you. In this case, your responses helped us to know the aspects of reunion that you most valued and how you spent your time. The highest number of survey respondents came from 1976-1980 (54) and 1991-1995 (44). Out of 664 responses, the top 3 event/activities from Reunion were the Era Show (191), Thursday Welcome Dinner (84) and Opening Session (82). And, 162 of 227 respondents joined the WhatsApp group for reunion and almost all found it helpful. A new group for 2024's Annual Alumni Week has already been started and has already amassed 356 participants.
We were honored and delighted to have three authors and book signings during the event, J. Blanton Belk, Dr. Carolyn Lee and Keith Frohreich. Dr. Lee shared a reflection with us:
"As I sat in the audience and listened to Paul Colwell sing, "What a Wonderful World," I thought how refreshing it was to hear that positive, optimistic assessment of a world that is often spoken of in disturbing, depressing terms. For the weekend of the reunion, anyway, we focused on the good and the hopeful, the fun and the festive. I left feeling renewed and refreshed. UWPIAA Reunions will do that for you. In addition to my own feelings, I enjoyed witnessing the feelings of others, sharing in their joy, observing the pleasure they took in reuniting with old and dear friends. Years ago, as part of the old "Keep Your Eye on the Ball" speech, I pointed out that the Up with People experience was very "personal." So personal, in fact, that it is difficult to describe or explain to anyone who hasn't been-there-and-done-that. A reunion affords us the opportunity to spend time with people who "get it," people to whom we don't have to describe or explain because we share this unique experience. I hope the UWPIAA, and especially the committee of people who worked so hard to make this event happen, will receive all the accolades they deserve. I'd love to hear the comments that are coming in from people all over the world about the emotional, exhausting, uplifting experience they had in Scottsdale—although many of them might be at a loss for words." 

– Dr. Carolyn Lee
Below, you will find a summary of the survey data. We hope you find this as helpful and as informative as we have!

Please note, we have removed the responses to the open-ended questions from this summary. If you would like to receive a file that includes those, please reach out to events@uwpiaa.org or communications@uwpiaa.org. Thank you!