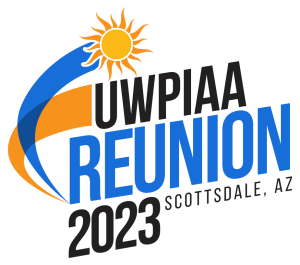 Talking Stick, Resort, 19-23 July, Scottsdale, Arizona, USA (near Phoenix)
All advertised add-on items are now available and need to be booked as soon as possible. Log into your Registration Account Center to access them.
A copy of the schedule was emailed out to all registrants, posted in our Reunion 2023 WhatsApp group, in the Facebook event within our UWPIAA alumni-only group, AND will be online in an easier to read format shortly. Everyone attending will receive a printed version onsite (hang onto it, as we did not print many extras). Please remember we are an all-volunteer team! Thank you!
The info below has been modified to be more complete. Onsite you will have online access to additional info, probably sooner.
Tuesday, 18 July:
Tucson Day (optional add-on) featuring a visit to the UWP Archive at the University of Arizona and lunch with the Belk family
7:00 a.m. Meet in the Hotel Lobby for 7:15 a.m. departure.
5:00 p.m. UWPIAA Expression Session: A Celebration
Wednesday, 19 July:
9:00 a.m. Morning Mindfulness/Yoga
1:00 p.m. Dance Fitness
2:00 p.m. UWP Alumni Hub Information Session
5:00 p.m. UWPIAA Expression Session: A Celebration
Thursday, 20 July:
7:00 a.m. Morning Mindfulness/Yoga
9:30 a.m. Legacy Celebration (optional add-on) A brunch event honoring our rich legacy and heritage.
12:00 – 2:00 p.m. Cast K and Cast T Registration; Sessions Start at 2:00 p.m.
Sessions, Alumni Marketplace, Memorial and UWP Merchandise
4:45 – 5:30 p.m. Cast & Crew Rep/Connectors Meeting
5:30 p.m. Mingle, Silent Auction, then Dinner & Awards followed by a 60s-Themed Dance Party
Friday, 21 July:
6:45 a.m. UWPIAA Celebration of Life: With Every Turn We're Learning More, the sacred ritual will include readings from several faith traditions, music and an opportunity for you to speak the names of those you continue to hold in your heart.
7:00 & 7:30 a.m. Morning Mindfulness/Yoga 30 minute sessions with Jenni and Megan
9:00 a.m. Opening Session
Sessions, Alumni Marketplace, Memorial and UWP Merchandise
5:30 p.m. Mingle, Silent Auction, then Dinner & Awards
10:00 p.m. UWPIAA Expression Session: Musicians' Jam
Saturday, 22 July:
Sessions, UWP Merchandise
Rehearsal
Cast Meetings
Cast/Crew Photos
See "Official Cast Photography" information in the For Your Information section below
Cast/Crew Photos are available to pre-order or purchase onsite.
They will be printed and available for pick up before you leave AZ. (Large groups, that may mean you are early on the schedule to allow time to print.)
Please help get your group there on time as the schedule is made to allow everyone to have rehearsal time.
No photos should be taken on phones.
Those who wish to be in the photo need to have a badge or a day pass.
Silent Auction to benefit the UWPIAA
Era Show; doors open at 7:00 p.m. and the show begins at 7:30 p.m. Please plan meals accordingly!
Silent Auction closes at intermission; winners texted to pick up items after the show
10:00 p.m. UWPIAA Expression Session: Musicians' Jam
Sunday, 23 July:
Departure day
7:00 – 10:00 a.m. Freshly brewed coffee available at Blue Coyote Cafe
Check your confirmation email for the list of contacts related to Registration, Hotel Cancellations, Gifting some/all of the fee to a friend. You may GIFT registration or an element of reunion by emailing reuniongift@uwpiaa.org.
---
For Your Information
Schedule | For Your Information | Frequently Asked Questions | Hotel Information
Add-on Events
Momentous Tuesday in Tucson

$125, includes a visit to the University of Arizona, a guided tour of the UWP Archive, and a very special lunch with the Belks at their home.
There is very limited capacity, and there will be no waitlist in operation.
We suggest booking immediately as once we reach capacity, booking will close.
Note: This is only available to fully registered alumni as an add-on.
Alumni Life Celebration (Memorial Room)
There will be a room where alumni can stop and remember those we have lost.
There will be paper for any additions to the list that we have onsite.
All are invited to submit a longer memorial for their cast/crew members by entering information here.
Cabanas
Are available to purchase.
There is not as much shade as at past venues, so be aware of that (wide brimmed hats are suggested).
Cast/Crew Meeting Rooms and Group Meals
The UWPIAA does not have use of the entire property during the reunion. If you would like to reserve a room for a cast/crew activity OR book a meal outside of those included in your registration for your cast/crew, you needed to email concierge@uwpiaa.org by July 2nd.
The benefit of booking a group meal of 25+ through the IAA is that you will be receiving our special highly discounted rate.
Cast K (Kids) and T (Teens)
Ages 7-11 and 12-17 respectively.
We offer fun activities for the children, the chance to learn a song and perform for all reunion attendees.
It is also an opportunity to connect and make new friends.
Casts K and T are led by alumni volunteers.
Often the children go begrudgingly the first day and by Saturday they are not wanting to leave!
If you're sending your children, please make sure they have a labeled water bottle with them each day!
Please adhere to the schedule and pick them up on time (we suggest setting an alarm)!
We offered a Cast K/T info session to all registered participants on Saturday, July 8 at 4 ;p.m. CET (Frankfurt) and 10 a.m. ET (New York)
Day Passes will only be available onsite beginning July 19 if space permits. They are not guaranteed.
Note: A Saturday Day Pass is mainly for Alumni who didn't buy a full registration and want to be with their cast on Sat (vocal/dance/band rehearsals, cast pictures, cast meetings and BE in the Era Show.
…An Era Show ticket only allows attendance to see the Era perform (not participate). This ticket is best-suited for family/friends.
Thursday Legacy Celebration ONLY $65
Thursday Day Pass $150
Thursday Day Pass with Legacy $200
Day Pass Friday $250
Friday Evening Dinner/Awards $160
Day Pass Saturday $170
Era Show Adult $50
Era Show Child $20
Hotel Rooms and Reservation Cancellations
YOUR HOTEL ROOM IS BOOKED SEPARATELY – THE LINK IS IN YOUR REGISTRATION CONFIRMATION EMAIL, please do so immediately to secure the group room rate of $129 per night plus applicable taxes based on single or double occupancy. Only our contracted dates are visible on this booking page. Book what you can and then call the hotel with your confirmation number and request the additional dates be added. They have been very accommodating, but we do suggest you call early with your request.
Our contracted hotel room dates are 18th-23rd July at the rate of $129 per night.
You needed to cancel by 19 June if you are sadly unable to attend to avoid a fee.
Room cancellations: Please first email reunions@uwpiaa.org before sending email to reunionhotel23@uwpiaa.org as our room block is now locked.
Please do not hold more than one room in your name – we really need all occupants to be listed in the appropriate rooms.
Please include your roommate name when you book.
We are checking the registrations versus the reservation list, as we incurred large fees when many rooms dropped at the very end last year, putting us under our room block numbers. Thanks for understanding, as meeting our contracted rooms is important for keeping costs as low as possible.
There is an additional $25 charge for a 3rd and/or 4th person staying in the room. There is a four-person maximum in any room. PLEASE CONSULT WITH YOUR CAST/CREW MATES AND ONLY BOOK A ROOM ONCE YOU KNOW IT'S NEEDED. PLEASE PROVIDE YOUR ROOMMATE'S NAME AT TIME OF BOOKING. Rooms and rates are based on availability.
The deadline for reserving or cancelling rooms at our rate was Monday, 19th June 2023 at 5:00 p.m. Arizona time (year-round MST).
Incentives
Congrats to Cast 1993 B, the winners of our second contest with the most new registrants from 25 February through 1 March! Cast Reps Hollie Lobosky and Danielle Gentry rallied the troops to victory!
Way to go, Cast 1973 A! You had the most registered in the first 24 hours!
And a big shout out to Cast Rep Marty Elcan for a job well done getting everyone informed and ready to go!!
Congrats to those who capitalized on our third incentive to add a Legacy Celebration ticket for free by registering on June 3!
Legacy Celebration
Will be available for $65 on-site.
This is a breakfast event to honor our history and legacy through the years.
Join our founders, Dr. Carolyn Lee and some very special friends as we commemorate the past and look to the future.
Meals
Food and drinks can be ordered from outside and delivered to personal hotel rooms BUT CANNOT LEAVE THE ROOM PER LAW.
Dietary concerns? Enter them upon registration or claim your account and edit them.
Blue Coyote Cantina and Ocean Trail are the best locations for lower-cost meals on property
The Black Fig Coffee Bistro and Blue Coyote Café are "grab-n-go" for coffee/breakfast and quick lunch.
To book reservations, Orange Sky and Tash are your best options
Official Cast Photography will be on Saturday. It is possible to pre-order photos here: https://rb.gy/ziwd8
Choose your group category from the drop-down menu.
Enter your name.
Add your product to cart and complete checkout.
Prints will be available for pickup onsite at no extra charge. They will also have onsite samples of additional photo products (mug, mouse pad, canvas bag, etc.) which may be ordered and shipped internationally.
Registration Cancellation Policy
Cancellations received on or before 19th June 2023, will receive a refund less a $50 cancellation fee for each adult registration.
After that day, no refunds will be issued. However, it is possible to transfer your adult registration to another person up until 17th July 2023.
Email treasurer@uwpiaa.org for all questions regarding cancellations and transfers.
Registration Confirmation
Your Reunion registration confirmation will have the subject line, 'Your Registration Confirmation to the UWPIAA Reunion 2023″.
It should arrive shortly after you register and if you don't see it, check your spam/junk/promotion folder to see if for some reason it was pulled into one of those.
If you CANNOT find your confirmation, go to the reunion registration page and at the very top you will see "Resend Confirmation". Click and enter the email you used to register.
Reunion Health Policy
Please click here to read the current policy and check back prior to attendance, as the global situation continues to change.
We will update as needed.
Reunion Preparation
When packing, please bring:
Lanyards (indicate intent to bring when you register to help our event be more environmentally responsible)
60s-themed outfit for the party Thursday
Reusable water bottles
Reusable coffee cups
Masks and COVID-19 test kits (Suggested.)
Sunscreen
Seating for Events
Please be kind and courteous and be aware there are attendees with mobility issues.
Dinner on Thursday and Friday are included in general registration and will be served at the table. We will identify groups of tables for era seating, but cannot guarantee exact numbers since there are many with families and others who traveled with more than one era. Participants in Casts K and T will have their own seating area together.
Silent Auction
Funds raised will benefit the UWPIAA to support our new initiatives.
Bidding will happen leading up to the Era Show and then close during the show and top bidders will be texted during the Era Show.
If you have something to donate, Brenda Moran ('77C) and Pat Berry-Glassner ('69B) are coordinating, please click their names to contact them.
Thanks to all our supporters in 2022, where we raised $10,000 for the UWPIAA!
Suites
Suites have been released and claimed by 10 different casts/crews.
If you are interested in OTHER larger spaces at the hotel, (the "signature" and "executive kings"), then you should call the hotel for pricing and availability.
T-Shirts
A very limited amount of commemorative Reunion 2023 T-Shirts will be sold on site for $35. We will share a preview, and are working on something special. If you know you would like one, please order ahead.
Transportation
We are happy to have negotiated a discounted flat rate of $45 for taxi transfer each way from Sky Harbor to/from Talking Stick. Depending on your luggage amount, up to 4 people are included!
You must enter your information in the Account Center, BY JULY 5TH and provide flight info for the number of people in your group (add the appropriate number for those in your party). Coupon will be valid Sunday 16th – Tuesday 25th July, inclusive. We are not taking payment; you pay your driver.
Airport transportation is not provided by the hotel.
Uber and Lyft will likely be in the $30-$70 range due to surge pricing; please encourage coordination of ride sharing.
UWP Store
There will be UWP merchandise available to purchase.
WhatsApp Group
Join our Reunion WhatsApp group for updates and info. It was in an email to all registrants on June 18th. Ask your Cast/Crew Rep for the link, check the post in the FB Event or email communications@uwpiaa.org.
Who's Registered?
Visit the list of who will be attending here. It's not perfect because of a few software factors we can't control, but it's the best the software allows.
When and where is Reunion?
Reunion will take place 19-23 July at Talking Stick Resort in Scottsdale, Arizona. Phoenix is the closest international airport to the event. Please make sure you register before reserving your room so that you receive the discounted rate at the hotel.

What's included in the price of the registration?
Adult registration includes all scheduled activities for Reunion 2023 except the Legacy Celebration and other add-on activities which will be available as an additional purchase. A complete list of scheduled activities with pricing for add-ons will be released soon. Two served dinners are included.

Cast K ("Kids" ages 7-11) and Cast T ("Teens" ages 12-17) registrations provide access to programming blocks exclusively for them, and access to the same activities as adult registration.

What are the current registration options?

● On-Site Adult Registration $460 available when the UWPIAA Concierge desk is open at Talking Stick Resort beginning July 19th.
● Early Bird Adult Registration $375 ended 1 March (There was an option to make a $200 deposit and pay the rest May 1, 2023.)
● Regular Adult Registration $435 ended 2 July (transfers will be possible, but registration will otherwise be halted until we are in AZ)
● Teen – Cast T (ages 12-17) $275 Includes optional Cast T participation and T-shirt (email reunions@uwpiaa.org to inquire)
● Kids – Cast K (ages 7-11) $220 Includes optional Cast K participation and T-shirt (email reunions@uwpiaa.org to inquire)
● Children – (ages 0-6) No charge with registered adult.

ADD-ONs, starting with the Alumni Golf Tournament are becoming available to purchase beginning 20 April as well. Log into your account to add tickets if you are already registered.

How do I know if it's my reunion year?
Your reunion year is every five-year anniversary of the year you first traveled. So, for instance, if you were in a cast that had staging in 1985, your reunion would be in years ending in a 0 or 5. The exception is for all the casts from 1965 through 1970. Their reunion is always in years ending in zero and five – even the casts from '66, '67, '68 and '69. This is because most people started at various times during the year and traveled multiple years at that time. This year, we are focusing on celebrating those alumni who traveled in a year ending in a 3 or 8.

Is there a health policy?
We are dedicated to protecting the health of everyone attending this year's reunion. The Reunion Health Policy section above links to a pdf of our current policy. Our registration site will provide regularly updated information regarding the health policies.

Can we reserve a special room for a cast/crew or other group activity?
The UWPIAA does not have use of the entire property during Reunion 2023 and most of the resort's function space is already in use for official reunion activities, however depending on the day/time, some space may be available. To inquire on meeting room availability, please contact us at concierge@uwpiaa.org.

What is appropriate attire for Reunion?
Phoenix/Scottsdale in July is warm, some say HOT! We suggest you bring comfortable clothing that will work both inside the hotel and poolside. A light sweater or shawl may be helpful for the transition from outdoor heat to air conditioning.

There will be a 60s-themed dance party, so bring your best 60s outfit, and if you'd like to participate in morning yoga, bring clothing for that. Talking Stick Resort has some great pools so be sure to bring your swimsuit. They do not offer as much shade as other places we have been so pack accordingly. Attire is very casual for most programs and sessions. Awards evenings will see many dressing up a bit more (think VIP travel day attire or show night in a city you helped set up). On Saturday, we anticipate Era Show rehearsals, so think back to what you wore on show days during rehearsal. There will be no quick change area, so Saturday evening those in the Era Show should wear what they plan to perform in onstage.

What are the transportation options from the airport to Talking Stick Resort?
We will have a shuttle service from and to Sky Harbor International Airport. Select "Yes" in response to the related question when you register to sign up with your flight information when we have more information to share.

Uber and Lyft are the most direct methods of transportation if you are not renting a car. 16.2 miles, 19-minute travel time, Fare varies based on surge pricing but can range from $30 to $70.

Directions:
From Sky Harbor International Airport: Take the 202 East to merge onto the 101 N. Exit at Talking Stick Way/Indian Bend and turn right.
From other areas

How will you conduct the Era Show?
We are excited to be working with Eric Lentz ('86E) and Paul Morel ('89C) who have been involved with the production portion of most of the past reunions. They will work to create incredible moments for all alumni in attendance to enjoy, and we'll share what we can about the plans as they take shape.

Are there always extra tickets available for the Era Show?
Not always. We first must make sure we have space for all registered reunion attendees. If there is space, it might be standing room only, and it will be announced onsite.

What if someone does not want to participate in all the scheduled activities of the reunion? Are there other registration options? Are there day passes available?
There is the potential of day passes based on the following criteria. Day passes are only available for purchase 19-22 July, at the UWPIAA concierge/information desk at Talking Stick Resort. No advance purchase is available. If the day or activity is sold out based on the sale of full registrations, then day passes for that day/activity will not be available.

Should I bring my children to Reunion? What programming is offered specifically for youth?
It's totally up to you! We've seen this to be an incredible opportunity for children to learn more about what their parents (even their grandparents!) participated in during their time in Up with People. Of course, we've also seen reunion act as an excellent break from the responsibilities associated with raising the next generation! It's often nice to have your children present and meeting the children of many of your friends from traveling. There will be add-on activities available for purchase ahead of the event as well.

I have a mature six-year-old. Why can't he/she be in Cast K?
We have established seven years old as the minimum age and it would not be fair to make exceptions, either to the other children participating or to the people who generously volunteer their time to run Cast K.

How do I sign my child up to participate in Cast K or Cast T?
Cast K and Cast T are sold out. Please email reunions@uwpiaa.org to be notified if a cancellation spot becomes available.

Upon arrival to the resort, there will be a Cast K and Cast T check in table where your child will receive their participation information.
---
Frequently Asked Questions
Schedule | For Your Information | Frequently Asked Questions | Hotel Information
---
Talking Stick Resort
Schedule | For Your Information | Frequently Asked Questions | Hotel Information
UWPIAA is welcomed to Talking Stick Resort, a luxurious Four-Diamond Scottsdale resort, where fun is limited only by your imagination. Play in style in their 240,000 square foot casino, if you choose, one of the largest in Arizona. Savor the flavors and take in the panoramic views from the award winning Orange Sky Restaurant. Check out Vegas-style entertainment and local favorites as they take the stage in the Showroom. Test your skills at our Alumni Golf Classic on 36-holes of championship golf at Talking Stick Golf Club, one of the most scenic and challenging golf courses in Scottsdale. Then when it's time to relax, head up to The Spa at Talking Stick and enjoy a relaxing spa treatment overlooking incredible views of the Valley.
Talking Stick Resort was a new venue to us in 2022 and we learned a lot and they learned about us as well!
We are on native lands at this resort, and security is tighter than other hotels we are familiar with since it is a casino.

The hotel requests no more than 18 in a suite.

The UWPIAA hotel reservation link is available in your confirmation email after registration for the UWPIAA Reunion.

There will be Suite upgrade availability in January. Claim your registration account to be able to add a suite upgrade when they are available, and refer to the information in the FYI section above.
Talking Stick Resort contains a casino. You will have to walk through the casino to check into the hotel and get to your guest room. However, once you are in the guest room tower of the resort, there is a direct pathway to the conference and event area where all the reunion functions will occur. Therefore, you only must go into the casino if you want to use the gaming facilities or to take advantage of several hotel restaurants that are accessed through that space.
Currently, Talking Stick Resort is "non-smoking" throughout the property, including the Casino.

Dining at Talking Stick Resort
The culinary experts at Talking Stick Resort have created six unique restaurants for you to enjoy throughout the hotel and resort and multiple unique bars serving up artisan cocktails and local beers. Whether the mood calls for one of Scottsdale's best fine dining experiences, bold flavors with stunning mountain and city views, oysters on the half shell in a modern seafood bar or just
a quick snack near the casino action, the restaurants at Talking Stick Resort have a dining experience to fit your taste.

For group bookings and discounts email concierge@uwpiaa.org.

TASH* (Reservation needed)
Lively libations. Bold flavors. Stunning views. Tash – find your vibe.
ORANGE SKY* (Reservation needed)
The height of culinary excellence. The award winning, Orange Sky.
OCEAN TRAIL* (Does not take bookings.)
A taste of New Orleans with fresh seafood prepared creole style.
BLUE COYOTE CANTINA* (Does not take bookings.)
Modern southwestern cuisine with an extensive tequila menu.
BLUE COYOTE CAFÉ* (Breakfast and quick lunch)
An eclectic mix of American and sushi. Open 24/7.
BLACK FIG BISTRO (Breakfast and quick lunch)
Casual take out for guests on the go. Open 24 hours a day, 7 days a week.
PALO VERDE LOUNGE
Enjoy live music, handcrafted cocktails and local beers.

Spa
The Spa at Talking Stick is a luxurious open-air space located on the 14th floor of Talking Stick Resort. Voted one of the 10 best spas in Scottsdale by USA Today, it features private rooms with unparalleled views of the Valley. Experience relaxation elevated and treat your mind, body, and spirit with therapeutic and beautifying treatments at a premier Arizona spa.

True to the heritage and traditions of the Salt River Pima-Maricopa Indian Community, they offer treatments inspired by products made with culturally significant ingredients.
SCOTTSDALE TOURIST INFORMATION
Scottsdale Fashion Square
7414 E. Camelback Rd, Suite 582
Scottsdale, AZ 85251