Alumni Spotlight on Koen Suidgeest
October 8, 2023
Alumni in Action
Recently I had the pleasure of talking with Koen Suidgeest ('88E) for the Cactus Lounge, and afterwards, we chatted for another forty minutes about the amazing life that Koen has led. Koen traveled in Up with People (UWP) in1988, and then again as a staff member off and on for a few years. He went to film school in Surrey in Great Britain and now lives in the Netherlands, in the Hague—The City of Peace and Justice, and center for so many things that align with his life and work.
Here's the thing. Koen and I are friends. On Facebook. In the way so many are called friends in this social networking society. And truly I knew nothing about him really. We had never met in person and never even spoken on the phone, so today was the very first time I learned a bit about Koen from the man himself.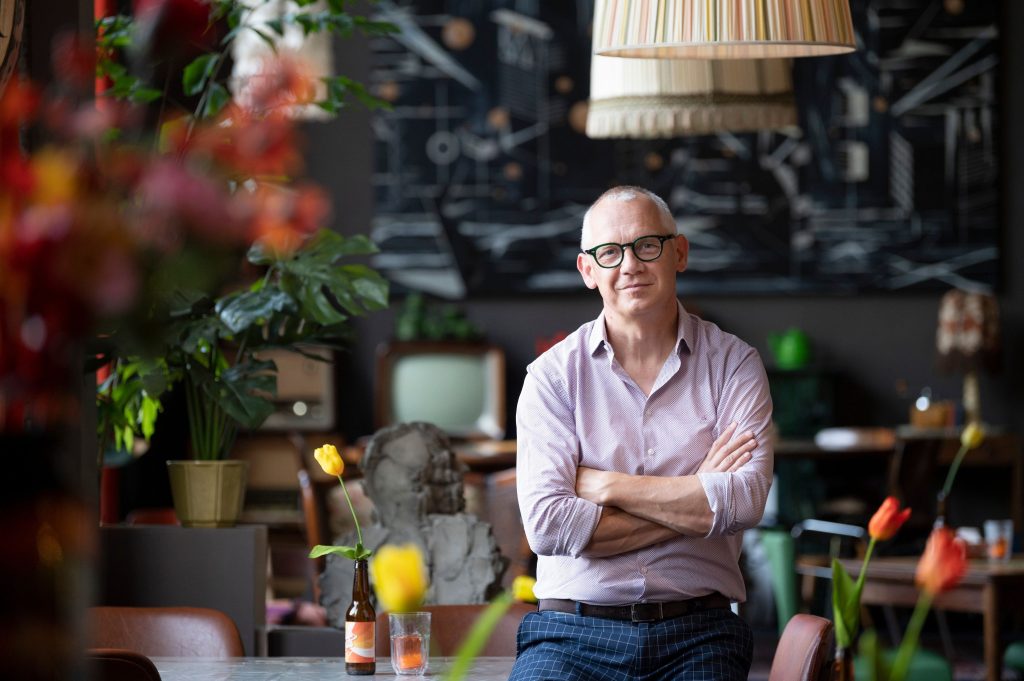 We discussed all of the "normal" UWP alumni topics and then really delved into the heart and soul of this photographer, university lecturer, and producer of documentaries on human rights.
As I type, I am, in my head, thinking about looking into his eyes on Zoom, and listening to the words of this man who for almost all of his life has been interested in learning, sharing, and exposing stories about humanity. About motherhood. About children's rights. About the LGBTQAI community. Koen works to get to the heart of issues and indignities that plague our world. It seems, after talking to Koen, that even as a younger UWP student, these were topics that were always front and center for him. He is both idealistic and angry about injustices that occur in our world. Luckily, his anger is overshadowed by a strong sense of optimism.
Not everyone thinks before they speak, and I for one, can be a person who often speaks extemporaneously—saying things in the moment and not always thinking about how someone might react or feel. Koen is no such man. I could see and feel the wheels turning in his head as he answered my questions and shared his thoughts, wanting to tread lightly about his feelings in a world where conflict has been so abundant these past years.
I smiled as Koen shared that alumnus Bruce Harris, inspired some of his work, and how he encouraged and helped him tell an important story. Bruce spent his life working in Central America to help street children. As we talked about UWP he asked, "What can we do to walk our talk? What can we as alumni, a base of nearly 23,000 people do to not miss opportunities to make a difference?" It was clear to me that he believes we missed some of those chances on the road and later in life. There are always economic and logistical concerns, but do our fears and stereotypes prevent us from opportunities that could in fact change our world and alleviate those fears?
We talked of the first cast visit to the former Soviet Union. He was not part of that group, but at the time was dating someone who was. And, after that tour, many who traveled spoke of how their views dramatically changed after going, living, and being there in person. Thus he feels it a pity that UWP primarily travelled in the (safer and more protected) Western world.
I first learned about Koen when his documentary Karla's Arrival was available to see in 2011. Koen spent 14 months filming a teenage mother who was living in a park in Nicaragua, and gave birth there to her daughter Karla. As his website shares, this is an intense personal story about second generation street children. His 2016 film Girl Connected talks of teenage girls tackling gender discrimination in Kenya, Peru, Bangladesh, Jordan, and India. In Malawi, Koen tells of rapid population growth that is causing depletion of the land in order to feed their large families—they have an average of 5/6 children per family.
Part of the conversation about East Africa also involved the reminder that Koen recognizes that he comes from a privileged part of the world and how he always aims to empower those with whom he works. One way he does this is by not using his own voice or presence in his films, but letting the protagonists do the talking. For example, in Malawi he used the voiceover from a woman in his film Kulinga Mawa. She speaks from her own perspective in the native language of her people, rather than a third person commenting in English. We even talked of UWP's visit to Israel, and the choice not to enter into Palestine—a short bus ride away. Koen considers this to be "a monumental mistake in UWP's history and a tremendous missed opportunity" as there are many programs in Palestine that use music in peace building. We could have done something big there.
I have to say that I was brutally honest with him about my personal fears, and I suppose prejudices, related to going places I've not been. If all I have heard about are drugs, cartels, crime, etc. those locations are not high on my list of places to visit. To Koen, it's only about human connection and understanding why our living circumstances are what they are. I must admit, he gave me cause to pause. Cause to consider my own thoughts about what it might be like to venture somewhere off the beaten path. I mean REALLY off the beaten path.
Bottom line, Koen works to tell stories and to empower others. He doesn't point his finger at them or lecture them. He gives them space to use their own voices and facilitates their stories, so that we… we who live so far away and so far removed might learn and understand. And, of course, help, teach, and share with others.
One of Koen's favorite UWP songs is Moonrider. This does not surprise me. But there is a song in Frozen where Aurora is singing about venturing "into the unknown" as she is being called by a voice that only she hears. Something inside of her is pulling her to a place she has never been. It's ironic that I am thinking about that song now, remembering my time as an 18-year-old in UWP where I was fearless and ready to help anyone, anywhere.
Koen believes we should all continue in that manner. All 23,000-ish alumni. Everybody Put a Little Bit In, and we can continue to change the world.
You can learn more about Koen and his work by visiting his website. 
Watch the full Cactus Lounge interview here: