Jambo Friends!
John & Ann Parker ('65A, USA)
July 7, 2021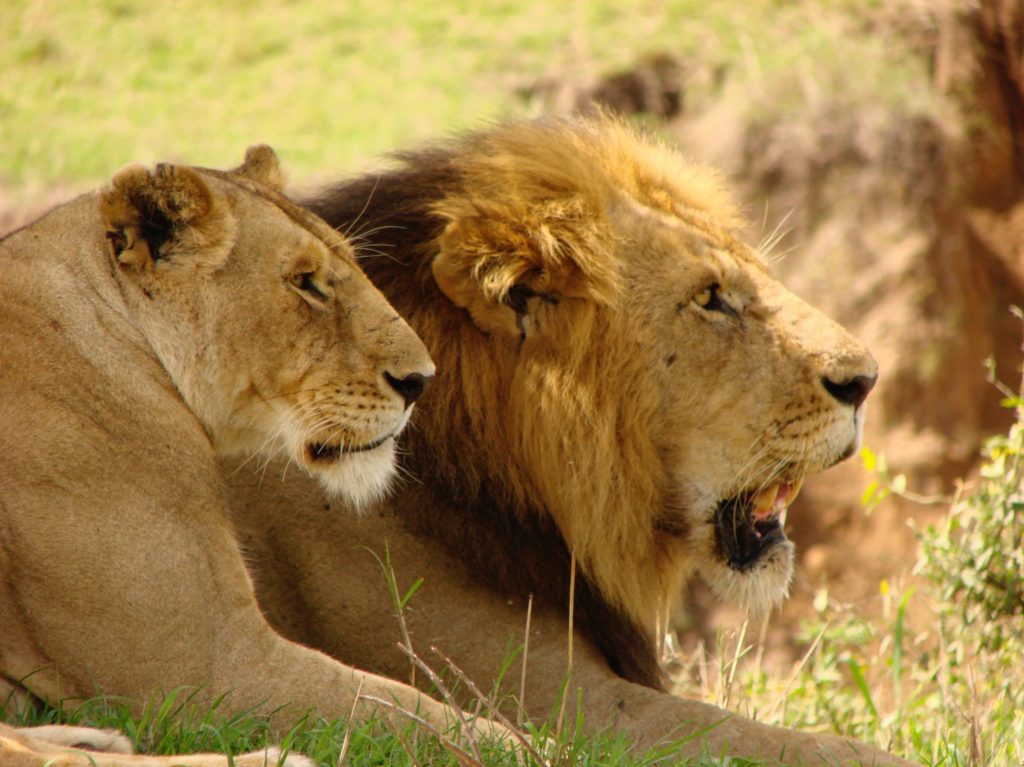 If seeing the wildlife of Africa and meeting the Maasai people is not on your bucket list…it should be!!!  Almost 50 of your Up with People (UWP) friends have visited this magnificent land of the Maasai Mara in Kenya. Cast members from the early years of UWP, as well as those from recent casts (including Phil and Sofie Woods, ('08B & '10A, USA), have experienced this incredible place, during a special week for UWP alumni and their friends and family. 
Basecamp Maasai Mara is located in the Mara-Serengeti ecosystem, an area of over 3,000 square kilometers. This is the site of the "great migration" where 1.5 million wildebeest, zebra, and Thompson gazelle travel from Tanzania to Kenya in the spring and back again in the fall. It is home to 40 percent of Africa's great mammals, as well as almost 90 other mammal species and 550 species of birds.   
Ann and I are associated with the 50,000-acre Naboisho Conservancy. Should you visit, you'll spend three nights on the Conservancy which has the highest density of lions in Africa. Here, you'll see healthy populations of cheetahs, elephants, giraffes, hippos, Cape buffalo, Nile crocodiles, ostrich, and, if we're lucky, rare spottings of leopards and black rhino. You'll experience the Maasai culture and the amazing Maasai guides and staff.  
Through our friendship with Hans and Tove Magnus ('65A, Norway), Ann and I were introduced to Basecamp Explorer over 20 years ago. Our first safari camp was started through the invitation of a village elder, to create a safari operation that would benefit the indigenous Maasai who inhabited these lands for centuries. This first camp—where we spend our first two nights—is across the Talek River from the Maasai Mara National Reserve.
In 2008, we formed a 501(c)3 in the U.S. to raise funds to support projects that benefit the Maasai. Projects include planting one million trees, the Women's Bead Project, recycling and water projects, a guide school, and the construction of a college to further education and research. Ten of your UWP peers serve on the board of this Foundation.
A group of alumni is going to Basecamp in February 2022, if the COVID-19 situation permits. The accommodations at both camps are very nice, the food is good and the guides are excellent! You'll find the price to be quite reasonable when compared to other safari operations in the region.  Because of our connection to Basecamp, you'll get a 15% discount off room, board and safaris. 
For information about…
Hardwick Dental Teams
Jim and Jody Hardwick ('81C, USA) visited the Mara several years ago. The experience inspired them to bring a team of dentists to treat the Basecamp staff and families in the Talek community. Please enjoy this video about their first trip and their plans for a return trip in 2022.
John and Ann Parker traveled in '65A and John was the first President of the UWPIAA. He and his wife Ann were also Cast Directors from 1970-1974.