The Up with People Archive- A resource for historical research of Up with People's past
Elaine Crepeau ('68C, USA) and Jenn Gifford ('00C, USA)
July 7, 2021
Since 2009, the Up with People (UWP) Archive has been housed in Special Collections at the University of Arizona (UArizona). Many alumni know of the archive, but we hear many questions about what is located there, how it can be used, and how alumni can help grow the collection.  
The Archive
The UWP Archive consists of historical materials including photographic and audiovisual material from UWP performances and events. It also contains musical arrangements including scores, sheet music, song translations and symphony arrangements, publications such as newsletters, programs and promotional material, and organizational records including annual reports, yearbooks, correspondence, and manuals. The archive does not include textiles or 3D objects like memorabilia. However, a few rare items are included.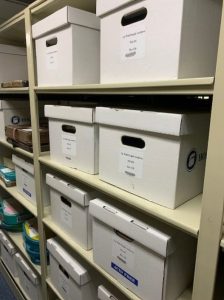 The bulk of the Up with People Archive is from 1970-1990. In addition, the Archive contains the organizational papers of the Up with People International Alumni Association with the majority of that collection from 1986-1992.
In July 2009, the Arizona Board of Regents, the governing body of Arizona's public university system, on behalf of the University of Arizona Libraries, acquired the UWP Archive, which is legally owned by the University of Arizona; and is housed in Special Collections in Tucson, AZ.
The UWP Archive is a research archive that consists of 160 linear feet of archival materials (171 archival boxes) in 55°F temperature-controlled storage.  
The UWP Archive is open to the public and researchers but is not a library with free access to the shelves nor is it a museum since there are no displays.   At an archive, the public can use the collection for research purposes only. The process is similar to the Library of Congress in Washington, DC, and many other research archives around the world. 
Protecting the materials in the archives is of utmost importance, therefore there are specific rules for accessing this collection. Materials from this collection, (call number MS 491) are requested on a form at the service desk. Each person is allowed to have one box of archival material on the desk at a time and you can view one folder at a time. Gloves are provided and required to be worn for handling photos, slides, and negatives. The point is to research information, and this process takes time and patience. 
If you find an item you would like to have duplicated, the next step is to check with the staff archivist. Duplication of materials and services are provided in Special Collections and are charged a duplication fee and must meet duplication requirements and permissions.
Due to COVID-19, Special Collections is closed until Fall Semester, 2021, however, some images have been digitized and can be viewed through the Digital Collection.
The UWP Archive Collection Guide is also available to view digitally.
UWP's Archivist
Elaine Crepeau is the UWP Archivist and is a full-time employee of UWP. She traveled with Cast '68C as a high school teacher in UWP High School. Elaine has an extensive background in library and information studies and brings her knowledge and expertise to the position. She has enjoyed a 48-year professional career in academic, public, special libraries and archives in the US and Japan. Elaine earned an M.S. in Library and Information Studies from Florida State University in 1973. 
Elaine helps to answer reference questions for staff, the public, corporations, host families, alumni of Sing-Out/UWP as well as local, national, and international Sing-Outs. She maintains the historical timelines, official statistics, and is leading the campaign for collection development to complete the Archive by gathering tour schedules, cast lists, city reports, and yearbooks. Elaine ensures that UWP's historical data is accurate and provides information that helps to ensure the staff and Board of Directors have the information from our past to inform decisions for the future.
Elaine also researched and edited J. Blanton Belk's memoir that was released last summer. She was recently highlighted in the Florida State University, College of Communication and Information newsletter about the experience, Coming Full Circle: iSchool Alumna Shares Experience Working on Newly Released Memoir.
How YOU can help expand the UWP Archive
The Archive is currently missing a majority of complete Cast Tour Schedules and Cast Lists. 
Tour schedules (especially those from 1970-1974, 1975-1981, 1985-1990)

Special event/Spin-off cast tour schedules

Cast lists (1970+)

City reports 

Yearbooks
If you have any of the items listed, please contact Elaine Crepeau at ecrepeau@upwithpeople.org.
Donation Procedure
The Archive does not directly accept donations of material. All donations must go through our Archivist, Elaine Crepeau. 
If you have materials that you are interested in donating:
Please Note: The UWP Archive accepts print materials and audiovisual materials for historical research. The Archive does not accept textiles or memorabilia (3-D objects), with exceptions for very rare items.
Check the collection guide to see if the archive already has the item at

http://www.azarchivesonline.org/xtf/view?docId=ead/uoa/UAMS491.xml

If not listed in the collection guide, reach out to Elaine (

ecrepeau@upwithpeople.org

)  to discuss if a particular item is needed.

If you have items that the Archive does not accept, we recommend you reach out to the Facebook group

Up with People Memorabilia Buy/Sell/Trade

(

https://www.facebook.com/groups/599064743570040

) to find a collector who might be interested in your items.